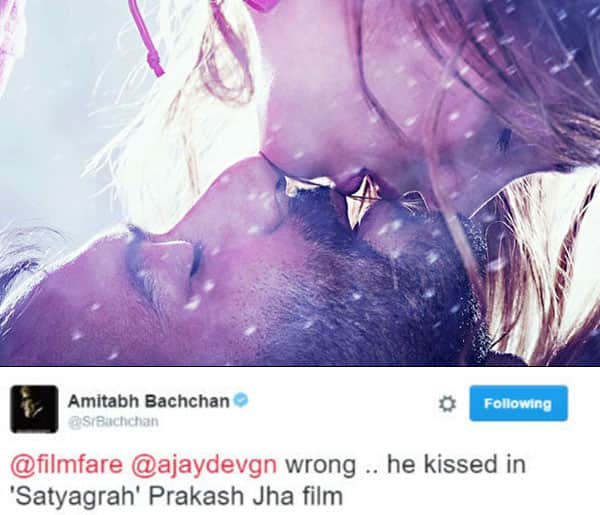 Ajay Devgn is doing a lot to make his Shivaay look mammoth. And after watching the trailer, we can only say that his hard work is evident. It's a spectacle we can do anything to watch. Diwali became all the more important for us and we can't wait for October 28 to arrive. The first song Bolo Har Har Har was simply fantastic. It gives you a rush instantly, the moment you hear it. The second song Darkhaast however promised a romantic ballad with Arijit Singh voicing it. Of course, apart from the mesmerising song, what took over the high point of the song was the fact that Mr Devgn broke his no-kiss policy and shared a sensuous kiss with his co-star Erika Kaar. Not just a peck but they had a proper 3 minute kiss which we exclusively broke to you. However, while it soon became the talking point for many, Amitabh Bachchan completely disagrees with Devgn!
The song released sometime ago. In an EXCLUSIVE BollywoodLife report we revealed that Ajay and Erika's steamy kiss will be a part of their latest romantic number. As Big B spotted this piece of news on his Twitter feed, he was quick to reply on it as he said, "Wrong .. he kissed in 'Satyagrah' Prakash Jha film." Hey, wait a minute there. Is he talking about the one where Ajay was supposed to kiss Kareena Kapoor Khan? But wasn't that a cheat kiss as Bebo had refused to kiss Ajay?
Okay, so in 2013, while filming Prakash Jha's Satyagraha that also stars Amitabh, Arjun Rampal and Manoj Bajpayee in pivotal roles, Kareena and Ajay were to share a kiss. However, the actress flatly refused the same. A source had told a leading paper, "Prakashji wanted at least a brush-on-the-lips since this was a very passionate moment between the lead pair. But now after marriage, Kareena won't do any intimate scenes with any of her co-stars. Not even her husband Saif. There is a certain code of conduct that Kareena must follow as a Pataudi bahu. Also, Kareena would do nothing to hurt her mother-in-law (Sharmila Tagore) whom she loves dearly."
ALSO READ: When Ajay Devgn, Shah Rukh Khan, Akshay Kumar kissed for the first time on screen!
So yeah. That shot didn't really happen. But looks like Big B got a little confused. Oh don't worry, you won't find the tweet as the actor quickly deleted it. Perhaps it could've been because he realised that it was a cheat kiss so he took back what he typed. Luckily, we managed to get a screengrab of the tweet he had shared. Check it out  –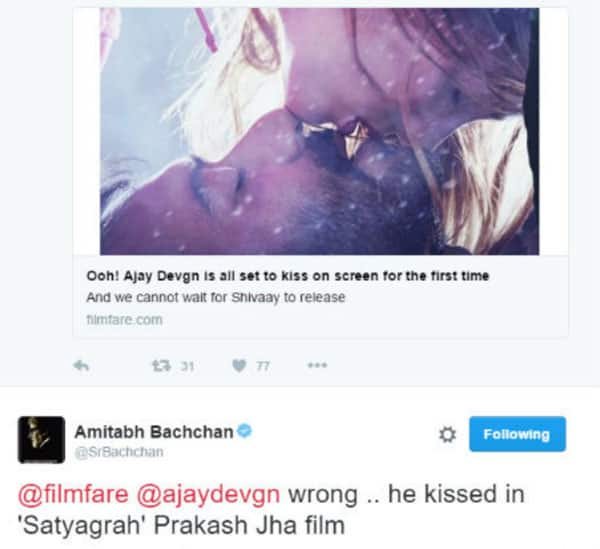 A rookie mistake there, eh Mr Bachchan? Ajay still stands strong on Shivaay's kiss with Erika Kaar as the one where he broke his policy! We had EXCLUSIVELY told you that the reason why Ajay Devgn broke his no kiss clause was because, "It's not that Ajay had any policy as such. It just happened organically given that Shivaay binds this beautiful love story between Ajay and his co-star Erika Kaar that it was just obvious of him to go with the mood of the film and get the emotions right. The love story gets a crucial twist in the tale. In fact, whoever has watched this kiss sequence so far feels it is so aesthetically shot that you would want to sit up and take notice of Ajay and Erica's romance." That's quite interesting. So will we see more of it? (Also read: Shivaay song Darkhaast: Ajay Devgn and Erika Kaar's mid-air romance is STEAMY!)
What are your thoughts on Ajay and Erika's kiss in Shivaay's Darkhaast? Also, what do you think of Amitabh Bachchan's slight folly? Tell us in the comments section below. And stay tuned to this space for more gossips and latest updates!
Ajay Devgn's still with Abigail Eames from 'Shivaay' trailer

Abigail plays daughter to Ajay Devgn in the movie.

Image credit: Youtube

Erika Kaar's still from 'Shivaay' trailer'

Ajay Devgn has a family as shown in the trailer and Erika being a party of it.

Image credit: Youtube

Ajay Devgn's still from 'Shivaay' trailer

Ajay Devgn's movie also hints its direction towards ode of Lord Shiva as from its background voice.

Image credit: Youtube

Ajay Devgn's action still from 'Shivaay' trailer

Ajay plays a mountaineer in the movie is is sorting his life out from some sort of threat.

Image credit: Youtube

Ajay Devgn's still while training kids in 'Shivaay' trailer

Ajay earns through his mountaineering skills and plays dual role of protector and destroyer in the movie.

Image credit: Youtube

Ajay Devgn with Erika Kaar from 'Shivaay' trailer

Ajay plays protector to his family and destroyer to those who are acting threat to his family.

Image credit: Youtube

Abigail Eames's still from 'Shivaay' trailer

Abigail seems to have been kidnapped by someone for whom Ajay is struggling throughout the trailer.

Image credit: Youtube

Ajay Devgn's struggling still from 'Shivaay' trailer

Ajay Devgn has been shown as a daredevil in the movie who performs stunts so easily.

Image credit: Youtube

Ajay Devgn with Erika Kaar from 'Shivaay' trailer

The movie has been shot in Bulgaria and Uttarakhand and will hot screens on Diwali 2016.

Image credit: Youtube