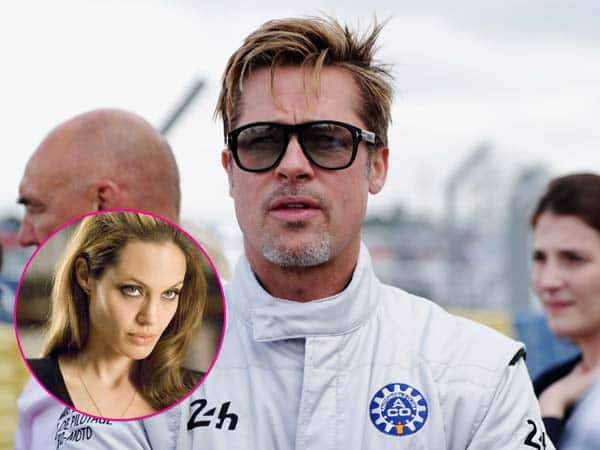 All hell broke loose when Angelina Jolie announced she was splitting from her husband Brad Pitt on Monday, i.e. September 19. The news obviously spread like wildfire and there were romantics crying on all parts of the world as one of the most loved couples called off their relationship of nearly 12years (10 years dating and 2 years of marriage). The actress stated that Brad's parenting skills was the boiling point for their relationship to take a tumultuous end. Jolie also claimed for the sole physical custody of their six kids, Maddox, 15, Pax, 12, Zahara, 11, Shiloh, 10, Vivienne, 8 and Knox, 8.
However, the worst part about this divorce is the fact that Pitt was kept in the dark about it. Yes, People's Magazine has reported that the Allied actor was informed about the divorce just two days before it was filed for it. The actor was devastated and tried to cajole her but in vain. "He was appealing to her to do this quietly – not to save the marriage but to consider the well-being of the children – and it was ignored," says the Pitt source. But Jolie – who said in a statement the decision was "for the health of her family" – did "what she needed to do," and added, "She will not be commenting at this time, and asks that the family be given their privacy during this difficult time." (Also Read: Angelina Jolie Pitt files for divorce from Brad Pitt; it's an end to the Brangelina lovestory!)
A source told People Magazine that Pitt will not likely accept sole custody, as "sole custody for either of them doesn't seem like what's best for the children." "Brad thinks Angelina is a great mother," an insider told them. "But he is also a great father. There is no way he is going to be absent for any part of his kids' lives." It is believed that Pitt's strict ways of parenting was what triggered Jolie to end the relationship. "Angelina's decision to file has to do with the way Brad was parenting the children … she was extremely upset with his methods. We're told there was no alleged "third person" … her decision to file was solely over Brad's interaction with their children," a source had told a leading portal. (Also Read: Is this actress responsible for Angelina Jolie and Brad Pitt's divorce?)
"I am [a disciplinarian] with the boys. Girls do no wrong so I don't have to be," explained the Allied actor, who was raised in a Southern Baptist household. "I feel like my job is to show them around, help them find what they want to do with their life, put as many things in front of them, and pull them back when they get out of line, so they know who they are," admitted the actor as he justified his parenting style. Now the biggest question is, will there be an ugly fight for the custody of the kids? As Jolie is already asking for a joint legal custody but doesn't wish Pitt to receive physical custody as she doesn't accept with his ways of parenting.
Will Brad Pitt fight for the physical custody of his six kids? Is the battle going to be ugly? What are your thoughts, BollywoodLifers? Tell us in the comments section below!
When Brad Pitt and Angelina Jolie made an appearance at WSJ Magazine Innovator Awards

Brangelina's romantic gaze caught everyone's attention instantly, and made the fans go 'aww'.

Image credit: Getty Images

When Angelina Jolie and Brad Pitt arrived holding hands at the screening of By The Sea

They looked so much in love when they arrived for the screening of By The Sea hand-in-hand.

Image credit: Getty Images

When Angelina Jolie and Brad Pitt shared a kiss on the red carpet at Cannes film festival

They set the red carpet on fire with that kiss at Cannes film festival, 2011.

Image credit: Getty Images

When Angelina Jolie and Brad Pitt couldn't keep off each other during a movie premiere in LA

The couple couldn't hold back from staying close to each other during By the Sea premiere in LA.

Image credit: Getty Images

When Angelina Jolie and Brad Pitt were had a PDA moment during Oscars

The duo took PDA to a different level during the 2009 Academy Awards.

Image credit: Getty Images

When Brad and Angelina looked insanely love-struck at a movie premiere

The couple gave us this ridiculously romantic moment during the premiere of Inglorious Bastards in 2009.

Image credit: Getty Images

When Brad Pitt and Angelina Jolie sneaked a kiss before a movie premiere

This was one of the most romantic sights for the fans during The Tourist premiere in 2010.

Image credit: Getty Images

When Angelina and Brad got intimate during the premiere of Salt

Brad was even spotted grabbing Angelina from her backside at the premiere.

Image credit: Getty Images

When Angelina Jolie couldn't stop looking at Brad Pitt

Brangelina became the centre of attraction at 2011 Golden Globes with their romantic gazes.

Image credit: Getty Images

When Brad Pitt and Angelina were seen flirting during a movie premiere

The couple was spotted sharing flirty moments during the Paris premiere of Megamind, and it was an 'awwdorable' moment.

Image credit: Getty Images