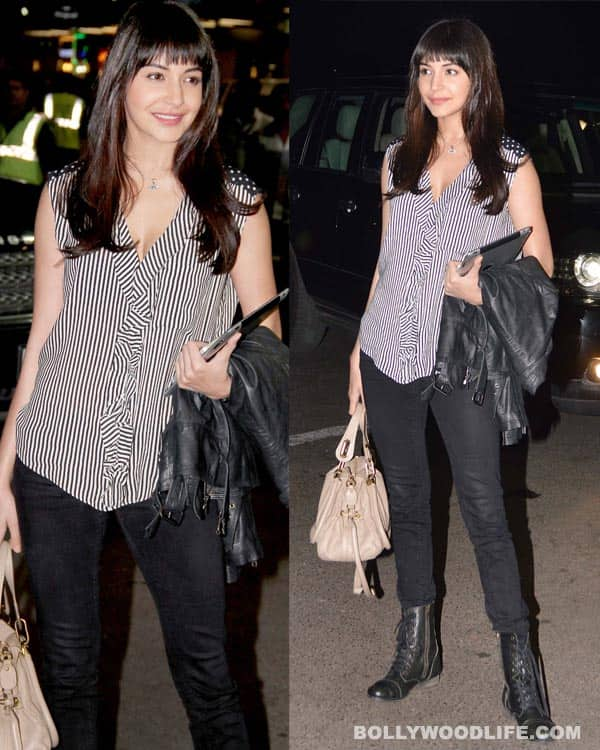 The babe was spotted leaving for Vancouver for The Times Of India Film Awards 2013, and wethinks her look had a great deal of similarity with PC's adventurous style!
Anushka Sharma – in a striped Zara top and skinny black jeans – looked super hot as she posed for the paparazzi, taking harmless pride in her airport style. Those bangs were so PC-like, and the ankle-length boots are definitely not for the frail-hearted style souls. Priyanka Chopra is a true-blue rockstar and her fashion sense has all of sudden become very fierce and bold. But who knew that some of our very own sexy chicks from B-town – for example apni Ms Anushka – will be highly inspired by the Chopra chick's way of teaming her clothes. Look at the manner in which Anushka let her hair loose and the attitude with which she pulled off a gorgeous pair of boots, and you would know what we are saying!
The gadget savvy babe walked around with a fancy tablet in her hand. The leather jacket and the Chloe Paraty bag added a hint of femininity and a biker babe-like tadka to her appearance. Even though the look seems to be quite a rip-off of PC's fashionable avatar, we quite like the fact that AS knows what suits her. Sporting bangs is not everyone's cup of tea; you need a heart of steel and an eye for style to figure out if your face is made for fringes or not.
So Ms Sharma is definitely not delusional, style-wise. She knows what looks good on her – even if it's a replica of a certain Ms Chopra's style statement.