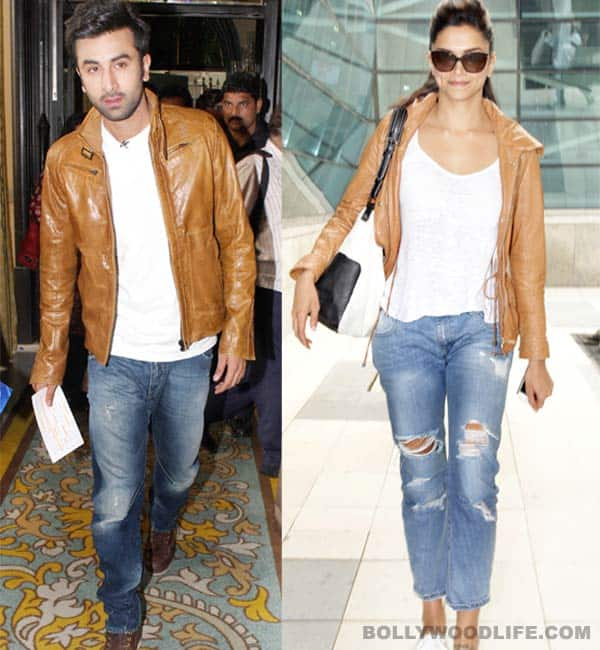 The Ram-Leela actor was spotted wearing a jacket similar to her ex-beau's. So was her style statement just a borrowed piece of clothing from the Yeh Jawaani Hai Deewani actor, or was it something they shared in the past?
Deepika Padukone and Ranbir Kapoor's affair is a thing of past. In fact, both the stars have moved on- Deepika with Ranveer Singh and Ranbir with Katrina Kaif. While she prefers to keep her current affair private, her love-hate story with Ranbir was quite a public one. From the infamous RK tattoo to her glorious bitching session with Sonam Kapoor on Koffee with Karan season 3 – everything was out in the open. The duo buried the hatchet when they came together for Yeh Jawaani Hai Deewani this year and it seems, at least to us, that RK-DP are the new besties of B-town.
Why do we say this, you ask? Well just a few days ago, Deepika was sporting a white tee, teamed with a light brown leather jacket and a pair of tattered jeans. Coincidentally, Ranboo has a jacket quite close to this one and was seen wearing a similar combination in the past too. If the duo walked hand-in-hand, ex-flames Deepika and Ranbir would look like an attention seeking couple who love matching their outfits during public appearances.
Anyway, what we don't understand is- why was the fashionista wearing that jacket, when she knows that media's privy eyes will not spare her? Was she drawing inspiration from her ex? Or was she simply missing him? Or was it a gift from Ranboo? In any case, shouldn't it be Katrina Kaif borrowing Ranbir's jacket or look and not Deepika?
Oh, the matters of the heart are all so confusing to us innocent people, haina BollywoodLifers? But what do you think – who will carry off Ranbir's jacket better – Deepika or Katrina?