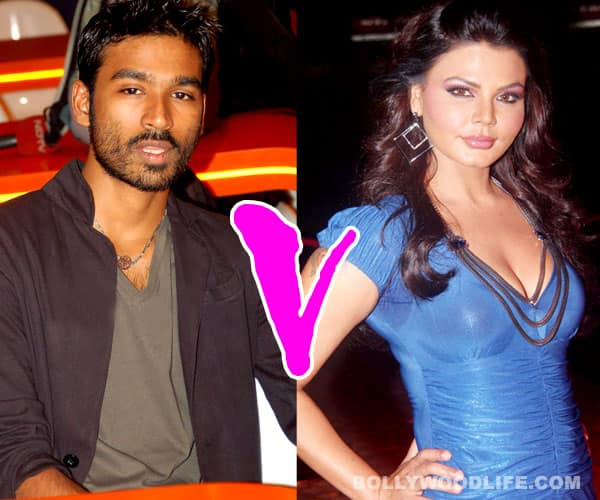 Ms Sawant says that the Kolaveri Di singer treated her with disdain when he met her
Just when we (incorrectly) thought that Rakhi Sawant, the ultimate drama queen of B-town, had gone quite, the item girl dropped a bomb. This time around, Rakhi launched a verbal attack on none other than Rajinikanth's daamad and the popular singer of Kolaveri Di, Dhanush.
Apparently, the 28-year-old singer has irked our fiery Rakhi by mistreating her. Though Rakhi confesses that she is a great fan of Rajinikanth, she doesn't have great things to say about the superstar's son-in-law Dhanush. What did Dhanush do to Rakhi Sawant to invite her constant babble against him?
It seems Rakhi was supposed to perform on Dhanush's phenomenally successful song Kolaveri Di at an event, but Dhanush opted for another performer in the end. Rakhi is visibly miffed the way she was treated by the young singer and yet she went ahead prayed for his success. "I am a big fan of Dhanush`s songs and acting skills. Even though he didn't show respect towards me and treated me as an untouchable, I pray that his songs and films become more popular than ever!" said Rakhi in an interview to a daily.
We know that Rakhi is a motor-mouth but wethinks Dhanush shouldn't take a panga with Rakhi. What if she comes up with an item song about being discarded by Dhanush with the able help of a certain Mika? That will be quite a song then!