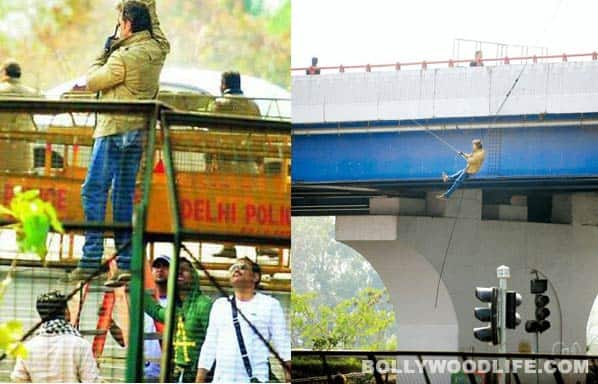 Reportedly, the Krrish 3 actor met the Delhi Police commissioner. But why?
Hrithik Roshan was in Delhi recently where he was shooting for his upcoming film Bang Bang, which also stars Katrina Kaif. However, the Delhi Police stalled the shoot of their film, we hear. Why? That's because Hrithik was shooting aerial stunts on a flyover bridge, which resulted in a traffic jam.
Phir kya hua? The police asked the unit to stop the shooting. The cast and crew of the film, having no other option, had to comply with the orders. But the main problem began when the police authorities informed the film's unit that the permission to shoot any further has been revoked.
"Lack of permission amounts to cancellation of the shoot or a change of location. Both would have disrupted the shooting schedule and led to a huge production loss," a source was quoted by a tabloid.
However, the Krrish 3 actor soon came to the rescue. "As soon as Hrithik was informed about the situation, he decided to take charge. He then met with the Delhi Police Commissioner to sort out the issue," added the source.
Frankly, we aren't really surprised. After all, there have been many stars who have used their stardom to get their work done, hai na?