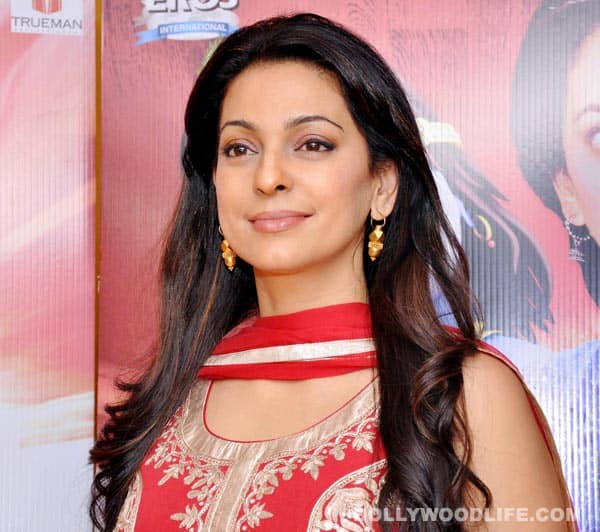 Well, the maker of this movie Anubhav Sinha has decided to deny it all vehemently on his microblogging account. But we couldn't help but ponder this 'situation' with our usual cynical thinking…
Yesterday we gaped at the news about Juhi Chawla storming off the sets of Gulaab Gang. Read that, didn't you? But ever heard of the soft-spoken Juhi behaving in such a brazen manner? Well, we haven't. And so we were mighty surprised at the report.
So what on the earth made Juhi behave thusly? According to the story we read, the bubbly actor hadn't received her dues from the makers of GG. And that's what led to a 'storming out' episode. Also, as a sneaky birdie chirped, "Since the shoot began, Juhi has been throwing tantrums. She is acting difficult. She is probably feeling insecure about Madhuri." Ahem ahem. Really?
While we were mulling over our doubts, Anubhav Sinha, director of the movie tweeted, "DEPLORABLE… When a NEWSPAPER behaves like a CHEAP TABLOID… Unnamed 'insider source' makes the headline and the Producer Quote gets a 'HOWEVER'… LOL." Oooopsie!
Though we will not reveal the name of the publication and have bleeped it out of his tweet, Mr S vented his anger further with: "I hope the higher ups in the *** office are watching such imbecile, irresponsible, desperate reporting. Can there be a journalistic ethic that unsubstantiated information can not make the headlines?#*** I am sorry but I am MAD AS HELL."
He also clarified, "To set the records straight. @bangdu @iam_juhi and @MadhuriDixit1 make the happiest set that I have seen in 20 years." Errm, happiest set? Really? We couldn't help smiling at this exaggeration. But guess the 'situation' called for some dramatic reaction. Possible, no?
Even so, we wonder about the 'real' truth? Could Juhi actually give in to the age-old rivalry between her and Madhuri and behave unprofessionally? Or is this yet another cliched figment of some birdie's imagination? Whatever it is, one thing's clear – Gulaab Gang is making headlines. Now that's a good thing, right? And isn't it a reason enough to make you smile, Mr Anubhav Sinha? Wink, wink.
But while the director mulls that over, you tell us, readers: Do you really think Juhi Chawla stormed out of the sets of Gulaab Gang because she felt insecure?