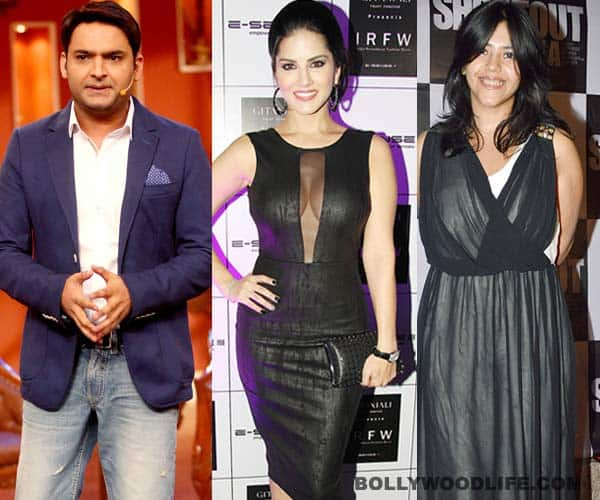 Kapil, who reportedly didn't want to shoot with the Canadian porn-star earlier, will now have her as a guest on India's most loved comedy show
So Sunny Leone will finally make an appearance on Kapil Sharma's popular show Comedy Nights with Kapil, to promote her upcoming film, Ragini MMS 2. For those of you who don't know, Kapil apparently didn't want Ms Leone on his show, when she was promoting Jackpot few months back. Why? Because of Sunny's not-so-glorious past (Read: her porn-star image). Height of narrow mindedness, hai na?
Anyway, so what made Kapil agree to have the Jism 2 actor on his show now, you ask? The answer is Ekta Kapoor. Confused? Ragini MMS 2 is being produced by Ekta and the TV queen is using the medium of small screen widely to promote her latest production venture.
"Sunny will be on the show to promote Ragini MMS 2. Producer Ekta Kapoor, too, will accompany her. Ekta has heard a lot about Kapil's show and has agreed to be part of it, though she doesn't like to be in the limelight. The channel and Kapil wanted Ekta to make an appearance as they want youth icons on the show, not just Bollywood celebrities," an insider was quoted by a leading daily. The episode featuring Ekta and Sunny will be shot in the next few days, we hear.
Frankly, this doesn't come as a surprise to us. After all, don't we know how influential Ekta is? And now that Kapil is all set to make his Bollywood debut, he surely wouldn't want to upset the Balaji head honcho in any way, right? All said and done, we are quite excited to see Sunny's sexy quotient in Kapil's "family" show. What about you peeps?