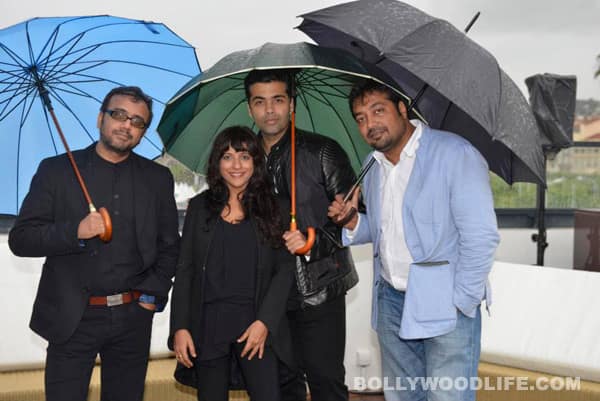 Some celebrities have an entourage to keep them looking good. Others have a little help… from Karan Johar!
We hear that a lot went on at Cannes International Film Festival 2013 that not many know about. There must have been some political machinating and a lot of tu-tu-main-main, we know, but that is not what anyone will talk about, for obvious reasons. After all, this is supposed to be the year India grabs the limelight and is in focus, never mind all the hoo-ha and behind the scenes shenanigans, no? But one story stood out and made us forget all our bitching and sniping, and say a mush-soaked awwww instead. It's the tale of a very helpful and supportive Karan Johar!
Yeah, well, we all know that KJo can be extremely…ummm…helpful and supportive where his buddies are concerned. And now, with all the bonding that happened during the making of the Bombay Talkies quartet of short films, the four directors involved are now friends. Of course, Zoya Akhtar and Karan Johar have known each other for years and Anurag Kashyap has been deriding Johar's brand of candyfloss cinema for years too, while Dibakar Banerjee makes vastly different kind of cinema, but when they were put into the same budgetary category and pushed into doing a project together, they did a job that most have liked, even though the box office has not been all approving. Cooperation, camaraderie and creative conferencing produced a commendable product…and a cool movie too.
And there is more. We hear that while the red carpet biggies like Sonam Kapoor and Aishwarya Rai Bachchan had some help from stylists and makeup people and hairdressers and more, the Bombay Talkies gang had a more…err…hands on wardrobe assistant. Meet Mr Karan Johar, stylist to the stars or, at least, star directors. According to some happy eavesdropping that we managed to do, Karan got his co-directors all spiffed up, with Anurag in his bowtie and Dibakar in his natty suit. Zoya, in an unexpected white, red and gold sari, had her pallu held just-so, in typical KJo movie ishtyle, strappy blouse artfully displayed, the clutch perfectly poised in one hand, the whole appearance done to the proverbial T. And that, dear friends, made for a pretty picture of a brand new family.
Isn't that what Karan Johar is all about?