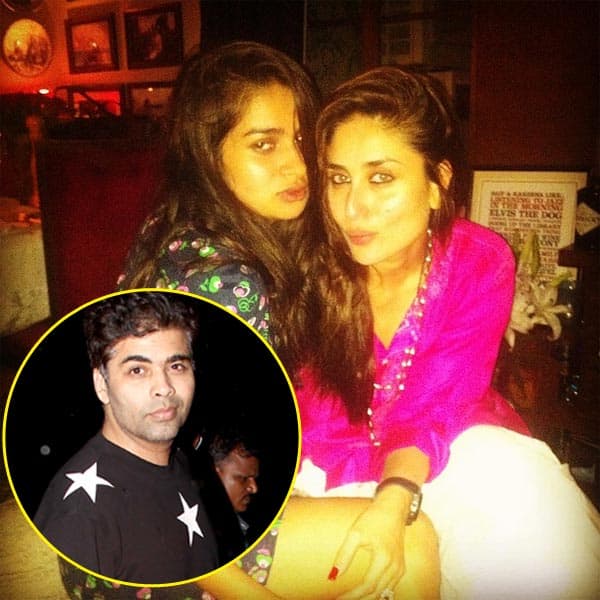 Last month when KJo celebrated his birthday, the filmmaker's closest friend and favourite heroine Bebo was missing at his bash. But recently the Talaash actor hosted a private dinner and surprisingly the KWK host was very much present. So have the two patched up? Surely looks like…
So Kareena Kapoor Khan and Karan Johar are back to being buddies. Yesterday, the Bodyguard actor held a private dinner party which was graced by her friends Amrita Arora Ladak, Tusshar Kapoor, Vikram Fhadnis, Tanya Gharvi and of course Mr Johar. Awww that's sweet na? But how did this almost impossible patch up happen that too so suddenly? Did someone play a peacemaker between Bebo and Karan? In a way yes but it's not someone but something. Well, reports are doing the rounds that KJo has finally zeroed down the cast for his much-talked about film Shuddhi. While Salman Khan is the protagonist, we hear Ms Khan will play the female lead and Sallu's love interest in the film. Yes, Kareena had opted out from the magnum opus after Hrithik Roshan ditched the project. And this even affected Kareena-Karan's dosti. But she is back in the film as per the latest grapevine. That's a bit shocking coz she was the one who left her friend-cum-filmmaker in a fix by backing off from the project remember? Maybe Saif's wifey realised her decision to say bye-bye to Shuddhi wasn't really wise. After all, Kareena in the past has rejected quite a few great offers. Also, unlike her contemporaries Bebo doesn't have plum projects lined up under her kitty. And we all know Karan was looking for a female lead for his dream venture. So what better time for KKK to patch with her once-upon-a-time friend who is also the most sought after filmmaker in Bollywood, hai na? And at this point, I am compelled to say "Dane dane pe likha hai khanewala ke naam." Wink, wink!
Well, our theory could very well be wrong but we are just exploring different angles of this high profile celeb patch-up coz no one really knows what exactly happened. More importantly how it happened. Whatever be the reason, we are always happy when two celebs kiss and make-up. Coz Bollywood is a small industry and it's always better to have more friends than enemies, right peeps?