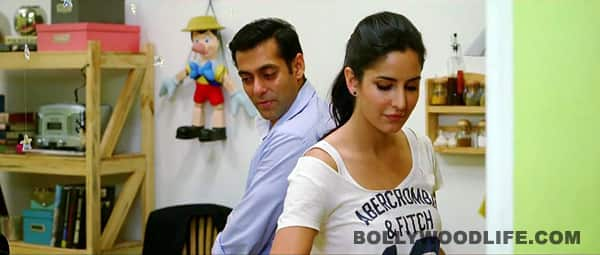 Katrina Kaif's wit and charm seem to be overpowering Salman Khan's macho character in the duo's upcoming film Ek Tha Tiger. Is that why Kat called Sallu a 'kaddu'?
We loved the casual banter between the ever so charming Katrina Kaif and sweet Salman Khan in the promos of Ek Tha Tiger. Though bhai is playing a rough and tough spy in the film, he goes absolutely speechless when Kat is around. Don't believe us? Just lend your ear to this peppy chat between Sallu and Kat and you will know why Katrina outwits our Tiger! We tried to convert this fun dialogue into English, only to call Salman a pumpkin! Something obviously got a little lost in translation…
Katrina: Style mein to tum kaddu ho, lekin very romantic
Salman: Pehli baar mujhe kisi ne bola hai…
Katrina: Kya? Kaddu?
Salman: Nahi, romantic!
Katrina: Kaddu pehle bula chuke hain?
Katrina: In style you are a pumpkin, but very romantic
Salman: First time someone's called me that…
Katrina: What? A pumpkin?
Salman: No, a romantic!
Katrina: So have you been called a pumpkin before?