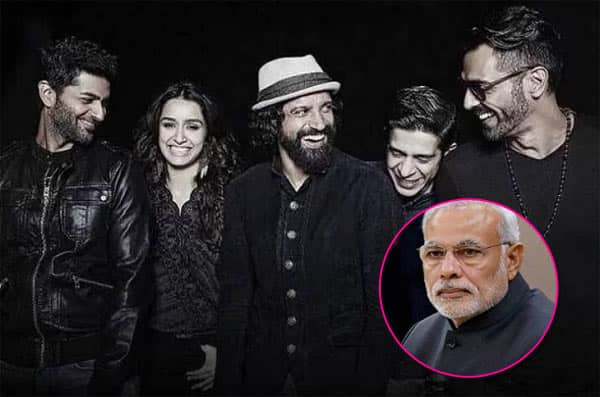 PM Narendra Modi made a historic decision on November 9 to scrap old 500 and 1000 rupee notes and introduced new 2000 rupee notes. It ensued chaos although it was done for greater good. Given the suddenness of the move, the entertainment industry grappled to steady itself. Later, it has even managed to get over the initial hiccup but not without a few casualties. Let us tell you how.
No takers for movies?
Not that anybody was overly excited about the sequel to the hit 2008 musical Rock On 2 but makers were convinced people are and so the film released. It opened exactly a few days after the rule was passed and was severely affected. Not many turned up to watch the film in the first weekend which made it earn only a paltry 7 crore. Even Ritesh Sidhwani admitted that it was demonetisation which destroyed the film. However, we all know it's more than that because the film didn't even get good reviews.
Ae Dil Hai Mushkil and Shivaay too felt the pinch when after earning pretty well suddenly the numbers dwindled. ADHM had already made 100 crore by then but Shivaay had to struggle to reach that mark. The fact that they released way before the announcement was made helped the makers post profits.
Apart from the above, Saansein had to be postponed because of the same. It was supposed to release on November 12 but fearing people may not come to watch movies, they decided to shift the date. They are yet to come out with any as of now. As for Wajah Tum Ho, the film was supposed to release this weekend along with Kahaani 2 but it too has moved from its spot. It will now release on December 16. Trade experts apparently suggested to the makers to postpone the release and they obliged.
South on High alert
Coming to South, we told you how demonetisation affected the film industries severely. According to reports in HT, three Telugu releases – Intlo Deyyam-Nakem Bhayam, Okkadocchadu and Remo had to be pushed forward. Ram Charan's cop drama Dhruva too had to be shifted from December 2 to 9 because of Modi's historic move.  Dhruva's director Allu Arvind revealed, "We had planned to release the film on December 2 initially. But due to demonetisation, we were doubtful if audiences will watch the film. And after some research and deliberations, we decided December 9 will be the ideal date." Vijay Anthony's Saithan, Chennai 600028 – Part II, Vishal's Kaththi Sandai were among other movies that decided to postpone their date.
Wedding bells silenced…
It will be unfair to not talk about Television even when we are just talking about films because Modi's move affected TV actors personally. Let us tell you how.
Shakti Arora, Ranveer from Aashiqui Tum Se Hi, had to postpone his wedding due to Modi's sudden decision. Shakti and Neha Saxena were supposed to get married on November 15, but had to delay it owing to the currency ban. The actor had already withdrawn money to pay to the wedding organisers and other staff but they refused to take the old notes which forced them to postpone their wedding. And you thought demonetisation only affected the common people! He was even quoted as saying that right now, they have no clue when they are going get married. Ditto for Karan Sharma but fortunately for him, his relatives pitched in and he could get married.
But despite all that, everyone in the entertainment sector is wholeheartedly supporting Modi's move to curb the black money menace. Now that's called unity in times of peril. Hope the greater good happens soon enough.