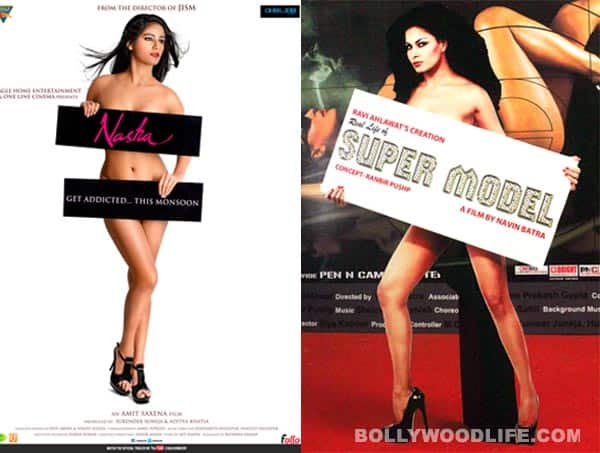 The Pakistani import alleges that the poster of Ms Pandey's erotic thriller Nasha has an uncanny resemblance to a still from her next movie, Supermodel. And frankly, we agree that Veena is not saying this without reason
Veena Malik is furious. And this picture will tell you why. The Pakistani bombshell believes that the makers of Nasha – starring Veena's arch rival Poonam Pandey – have created a poster that is an exact replica of her next, Supermodel. "I want to start by saying that look and sequences are normally copied by other films, but I think this is the first time that our film's poster has been copied. You have probably seen it in Nasha (poster)," claims Veena.
While Poonam is seen hiding her bare bod behind two placards on the Nasha poster, Veena is at her shady best behind the big board with the title Supermodel inscribed on it. Directed by Navin Batra, Supermodel will also star Veena's ex-flame Ashmit Patel. The film is shot in Fiji and promises to have some really passionate sequences. Nasha, on the other hand, is an erotic thriller that promises to get you addicted to Poonam's sizzling sex appeal this monsoon.
Supermodel director Batra claims that the poster was designed first and the makers of Nasha just copied it without seeking permission from the production house. But the Nasha director Amit Saxena has a different tale to tell. He said, "The posters of Nasha were designed six to seven months back. I don't know why they woke up now. The digital posters were released almost seven months ago. In fact, our designs were ready a year back, so there is no question of copying," reasoned Saxena in his defense.
So who is right here? Who copied whom? We can't wait to see who wins this catfight!