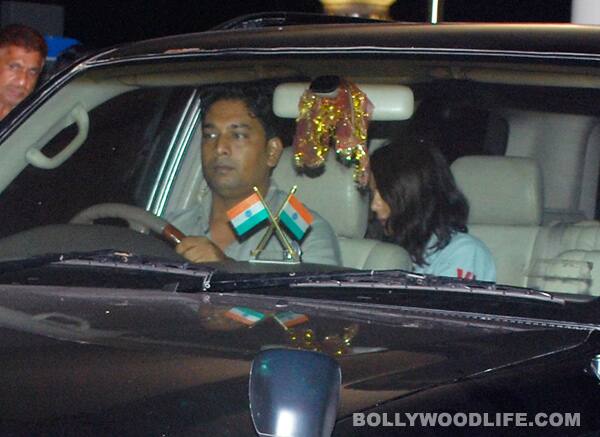 skip advertisement
The babe was recently spotted at the airport trying frantically to hide her face from the media and her fans alike. We wonder what's with the Ishkq In Paris actor
The usually affable Preity Zinta was not seen in the best of her moods recently. She unrelentingly avoided the paparazzi who waited for her outside the airport, and it looked like she feared that a couple of skeletons might just pop out of her well-guarded closet if she showed her face. But after all the brouhaha and the noise created about her behavior at the arrivals gate, PZ finally decided to tell her side of the story. So this is what she wrote on Twitter: 'Sitting at home with a twisted ankle post the airport assault by photographers. First I shoot all night and get on the plane and then get pushed. If the photographers ask me politely, I will oblige, but next time I'll either attack someone or then file a police complaint, 'coz this isn't fair'.' Now we do give her the benefit of the doubt after hearing her sob tale, but we won't really leave the chance of coming up with our own wacky interpretation, which may or may not be true – you decide. A couple of curious onlookers say that the IIP actor's jaw line seemed a li'l swollen. But before they could dissect her with their prying eyes, PZ started playing the hide-and-seek game again.
The actor
has been making fleeting public appearances, and the last time we really got to have a good, hearty look at her was while she was busy hosting her chat show 
Up Close and Personal with PZ. 
We were disappointed to discover that Zinta's bubbly grin and animated countenances had transformed into a wooden expression and a stiff smile. The actor's twinkling face had lost its spark, wethought.  And now, when we see her hesitating to show her face, we fear she has opted for more surgery – was that it last time? – which has unfortunately resulted in disaster. Or the other possibility could be that she got extremely drunk and banged headfirst into the mirror while she was preening herself and her Botoxed face. Or perhaps she has a new piercing that she does not yet want to reveal? Or maybe….Oh, our minds are full of ideas, but we guess it's time to give it a rest now and focus on much more constructive things…