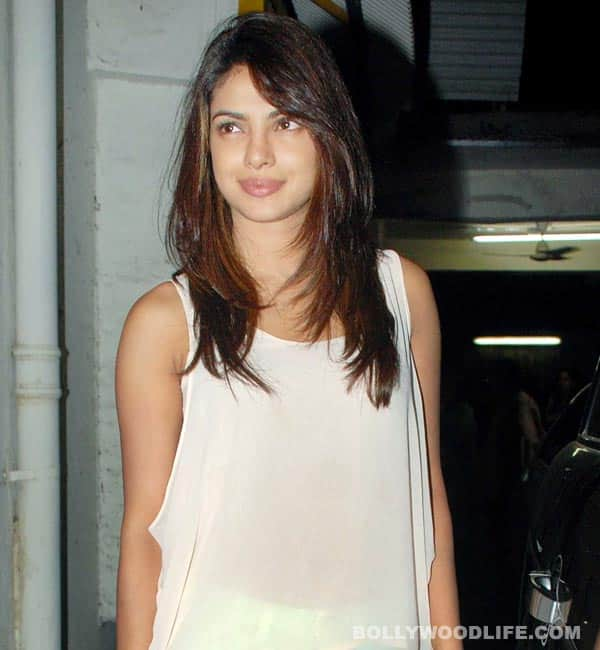 We thought Piggy Chops was a very busy bee when she refused to even consider signing Satyagraha. What then, we wonder, made her make space for the item number of an eight-year-old movie in which she was paired with Govinda?
Around eight years ago, when Priyanka Chopra had just started gaining momentum as an actor in Bollywood, she signed KC Bokadia's movie named Deewana Main Deewana opposite Govinda. The movie later got shelved for reasons best known to its makers. And Piggy Chops soon forgot about the entire episode.
But now, after so many years, she got a call from Mr Bokadia requesting her to shoot an item number – one that resembles the Punjabi number 'Kala doriya' – for DMD that he plans to release alongside Barfi!. Oooops! But do you think Priyanka obliged? Why, only recently we heard that she was too busy with Krissh 3, Zanjeer, Barfi! promotions and her international music album, right? And thanks to the same busy schedule she had refused to think about Prakash Jha's Satyagraha. Remember?
Well, news is that Piggy Chops did oblige! She has decided to go ahead with the item number of this eight-year-old movie and has even promised to promote it. For producer Bokadia it wasn't anything less than a boon. Imagine Pee Cee turning down Jha and taking up Bokadia's project! "God has been kind. Every producer goes through ups and downs. Priyanka Chopra is a gem of an artiste. She has offered to help in every way possible," the overwhelmed producer said in an interview.
What's more, Bokadia is also convinced that his movie, in a way, will change the jungli billi's career graph. "You mark my words 'Kala doriya' would do to Priyanka's reputation as a dancer what the song 'Gori hai kalaiyan' in my film Aaj Ka Arjun did for Jaya Prada," he said. Ahem ahem.
While we refrain from commenting on that, we just can't help but wonder how Mr Jha will be feeling right at this moment. After all, what does Bokadia have that Prakash Jha doesn't? Care to tell us, dear Ms Wild Cat?