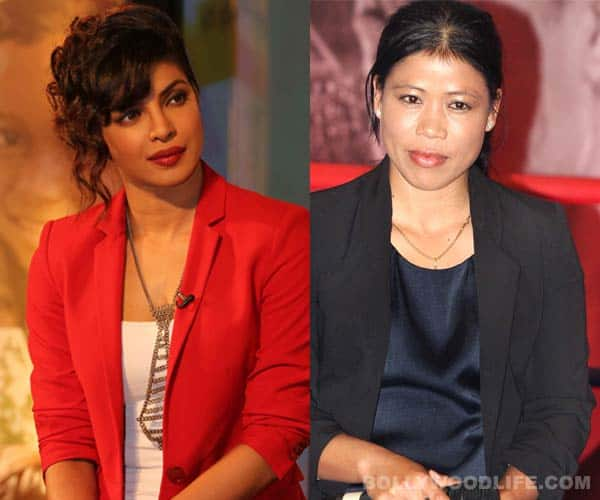 The Exotic babe who has stepped into Kom's shoes for her biopic ditched the boxer at a recent event!
Everybody knows that Priyanka Chopra will be seen playing Mary Kom in the latter's biopic. There have been reports about the actor and the Olympic medalist bonding well together and have even been spotted dining together. What more, Mary has been helping Priyanka to easily fit into her shoes. So, we were surprised when Priyanka ditched Mary!
Apparently, the boxer had invited PeeCee for promoting her autobiography in Bangalore. But Priyanka did a no-show. However, Kom wasn't quite disheartened by the actor's absence but she wasn't quite herself and this had nothing to do with Piggy Chops' no-show. We hear that Kom's lil son was a bit under the weather as he has been jet-setting along with mommy dearest for the promotion of her autobiography.
Well, while we hope her cute toddler gets well soon, we also hope that Priyanka has a good excuse for not accompanying Mary Kom. One can't forget how much the ace boxer has been helping the actor to perfect her Manipuri accent and has also been giving her boxing tips. So, we wonder why Priyanka let go of her chance of returning the favour!