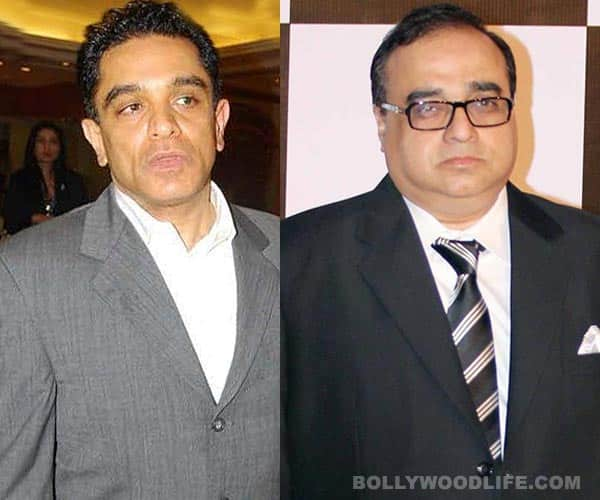 A week after Santoshi filed a police complaint against Nadiadwala alleging received death threats, a defensive Firoz insists that the filmmaker owes him approximately Rs 16 crores
Last month, director-producer Rajkumar Santoshi filed a complaint with the Juhu police against producer Firoz Nadiadwala. The police charged Nadiadwala under Section 452 and 506 and have already started investigations. According to the Ajab Prem Ki Ghazab Kahaani director, Firoz tried to meet him at his home to recover money from him and, on not finding him there, called Santoshi and threatened him with dire consequences.
Though Nadiadwala's brother chose to keep mum all this while, he couldn't take things lying down, especially after Rajkumar filed the complaint against him. "He (Santoshi) took Rs 5 crores from me to direct a film called Power with Amitabh Bachchan, Ajay Devgn and Sanjay Dutt. Then he took Rs 2 crores and 40 lakhs from me for another film titled Baba Jaan with Abhishek Bachchan in the lead. Then he also took Rs 65 lakhs from me for a film that he promised to make for me with Ranbir Kapoor in the lead," explains Feroz.
"Power didn't materialise. Logically and ethically, Santoshi should have returned my money for that and proceeded to make Baba Jaan with Abhishek. Instead, Santoshi went to Abhishek with another project for another producer. But Abhishek refused to work with Santoshi. Some days later Santoshi landed up at my home and created a ruckus, screaming and ranting at me. I requested him to calm down, but he didn't," said Firoz. "Santoshi is using a senior government officer's name to threaten me. The two of them have worked out a modus operandi to make money. First Santoshi makes a fool of people like me and then uses the good offices of this officer to threaten film people into silence when they demand their money back. This officer came to me and suggested that that I write off the Rs 5 crores that Santoshi owes me."
The disturbed producer said that he had always treated Santoshi like an elder brother, but had been cheated in return. "He thinks he can avoid paying me my Rs 16 crores by claiming I am threatening him. My family is being put under so much stress just because I asked for my money? Is this fair?" demanded Nadiadwala. We wait to learn more as the drama unfolds…