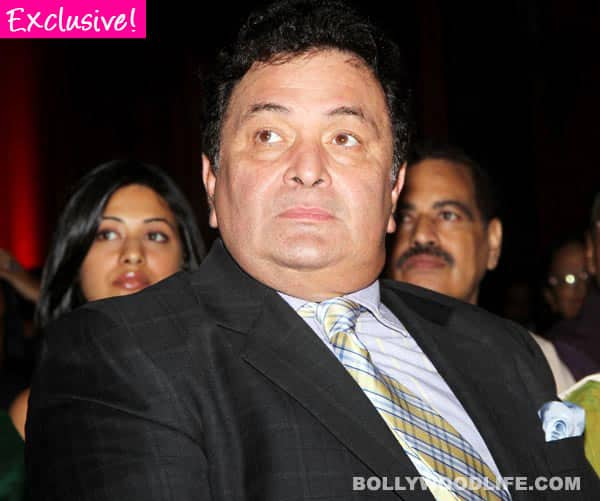 Known for being super-strict on the sets of the movies he does, Rishi Kapoor poked fun at Anil Kapoor while shooting for Bewakoofiyaan when Sonam Kapoor requested for a retake. Read on to know how Kapoor senior showed his haughty side…
Rishi Kapoor is a one-take actor. He comes on the sets fully prepared and knows his lines even with the punctuation marks! The 61-year-old is punctual, super-strict and absolutely no-nonsense when it comes to the business of acting. Ayushmann Khurrana who is working with Kapoor for the first time in Bewakoofiyaan also went on to call Kapoor India's first natural actor with tremendous dedication to his craft. Even we at BollywoodLife second that.
But here's a not so good side of the veteran actor's ultra professionalism. We hear he simply loses it if a director asks a second take from him. Every take Rishi does is more than perfect,but when requested to deliver the same scene again he simply loses his temper.
Our secret birdie chirped to us that Sonam Kapoor was taken aback when she discovered the haughty side of the senior star. When Sonam Kapoor walked up to Rishi Kapoor requesting if she could redo a scene with him, Rishi went on to give her an earful and even poked fun at Sonam's actor father Anil Kapoor. " Sonam realised that she could redo a scene in a better way, so she requested Chintu uncle ( Rishi Kapoor) if she can redo the scene with him. On hearing those words Rishi Kapoor snapped at her saying- Sonam tu prove kar rahi hain ke tu Anil Kapoor ki beti hain ( by redoing scenes you simply prove you are the daughter of your actor father Anil Kapoor).
We think the Sr RK should take a chill pill or better still take a lesson or two on coolness from his beta Ranbir Kapoor. After all everybody is not born with the same level of efficiency and ability. Rishiji needs to understand that and give upcoming talents chances they truly deserve, no?