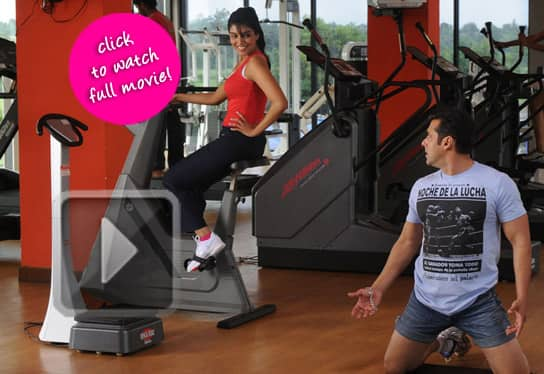 The Ready stars Salman Khan and Asin get along like a house on fire, thanks to their favourite hang-out joint – the gym!
Everybody knows how enthusiastic Salman Khan is when it comes to fitness. When not saying his lines in front of the camera, the fiery actor can be spotted doing push up or squats on the sets. Apparently, Asin, who played Salman's love interest in Ready, is also a fitness freak. Don't believe us? Take a look at how fit the actors look together in Ready on YouTube Boxoffice. The duo share a great chemistry, though Asin maintains that Salman is more than a good friend to her. While shooting for the movie in Sri Lanka and Thailand, both actors bonded well during their gym session. Asin got some invaluable tips from Mr Khan himself and as the time progressed, Sallu bhai actually turned into a fitness trainer for his Ready co-star. Salman was so impressed with Asin's dedication on the sets, off it, as well as in the gym that he recommended chirpy leading lady to some of his producer friends. Work-out can bring about some healthy changes in your life and if your gym-partner happens to be Salman Khan well it can give a definite boost to portfolio too! Gals are you listening?
Want to know how Salman and Asin's off-screen chemistry got translated on-screen? Then click to watch the entire movie Ready FREE!