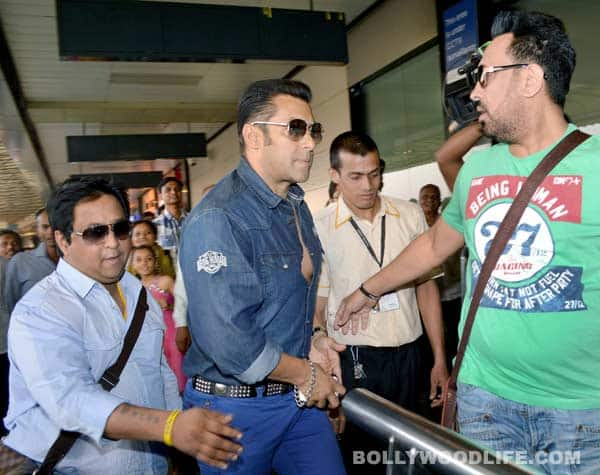 skip advertisement
While the Dabangg dude is usually decently dressed, choosing jeans and a T more often than not, here's one of those rare moments when Salman Khan couldn't resist the temptation of wearing whatever he laid his hands on
We know that Salman Khan tends to choose comfort over stringent style and sartorial must-haves that make men look fashion-sensible. The Tiger Khan is known for creating trends rather than following them. Very often bhai bends the fashion rules and adds his own tadka to his enviable wardrobe to make style statements that are uniquely his own. In that sense, Salman has created a space in the world of style and fashion that only he can fit. But the 47-year-old superstar is known for delivering a few oops moments too. Recently we saw one such occasion when Sallu did not quite impress us with his loud dress sense.
The moment Salman stepped out of his plush SUV at Mumbai airport recently, what grabbed our attention immediately was his bright blue pants! Mis-matching absolutely disastrously with his trendy shirt, those trousers became even more conspicuous to the keen eyes of frenzied onlookers thanks to the chunky copper studded belt. Sallu would have looked cool in his casual denim shirt and his aviators would have done him the usual justice had our gaze been limited to his torso. But as our eyes travelled downwards towards the belt and then, cautiously, beyond it, we started to giggle relentlessly. Bhai's trademark kada, his watch and the black shoes could not help hide the faux pas.The entire look had us humming Govinda's Meri pant bhi sexy song as bhai gave us his trademark smirk before checking in!
We know that people don't go to the airport all set to walk the red carpet, but when you are THE Salman Khan, cameras will follow you wherever you go. But does bhai really care? One look at these pictures and it is clear that the Being Human dude certainly doesn't.