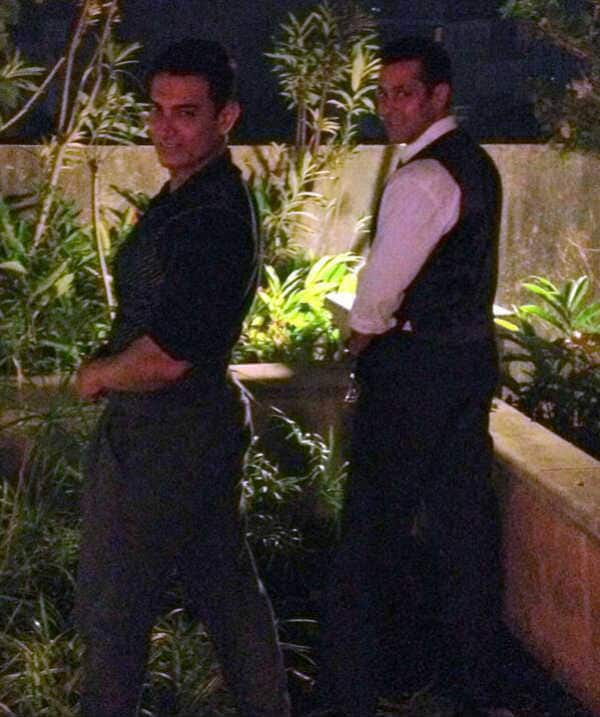 Apparently, Sallu miyan hasn't wished Mr Perfectionist yet!
Since a few months, India has been swearing by the yaaraana between Salman Khan and Aamir Khan. Both superstars raised quite a few eyebrows when Salman promoted Dhoom:3 and in return Aamir took to Twitter, continuously promoting Salman's Jai Ho.
Now Aamir has been celebrating his birthday with the media since quite a few years. As is customary, even yesterday (March 14, 2013) cut a cake with reporters and photographers in the parking of his temporary residence at Carter road, Mumbai. After the cake cutting and much hullabaloo, a reporter asked Aamir how did he celebrate his birthday. To this, Aamir – in a very sweet manner – replied that his wife Kiran Rao was with him at night and they brought his birthday together at nephew, Imran Khan's residence.
While all that is very sweet and nice, when the reporter asked him what was buddy Salman's birthday wish for him. He candidly replied that Salman  hadn't wished him yet. That's not all! He even went on to say that Sallu would probably message him if he remembered his birthday!
Now that's not what good friends do Salman. Common, looking at your current dostana with Aamir, you should have probably got him a cake as the clock struck 12. Haina, BollywoodLifers?
Also read: Aamir Khan: This year I am dedicating all my time to Satyamev Jayate