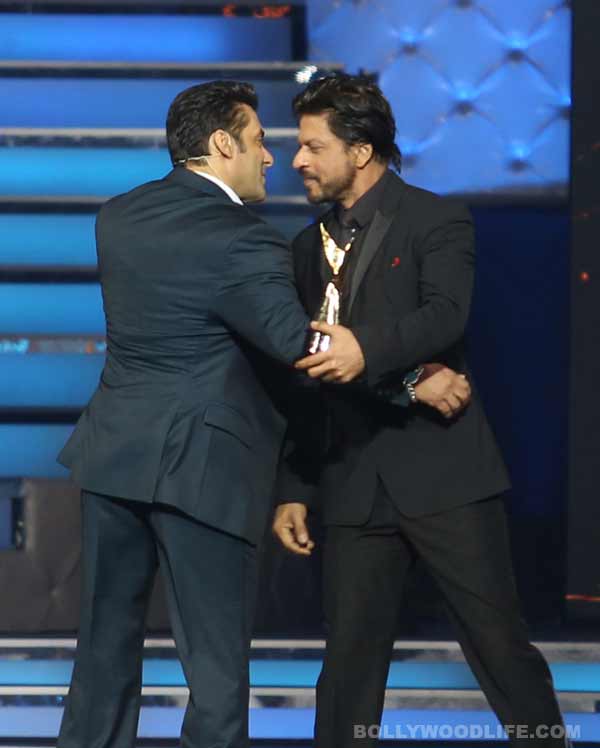 skip advertisement
Shahrukh-Khan-Salman-Khan-(3)
You may find this conclusion a bit bizarre. But read on to know the full story
At the star-studded night of Star Guild Awards 2014, Salman Khan and Shahrukh Khan hugged yet again. To those who missed, the two Khans, who have been arch rivals for the longest, were spotted hugging each other at Baba Siddiqui's Iftar party last year.
Reportedly Shahrukh won the Best Entertainer of the Year award and on receiving the award, SRK hugged Sallu. SRK then said, "It feels special to get the award in the company of Salman, one of the greatest entertainers the country has ever seen."
Well, when one Khan is so nice towards the other, obviously the other one has to reciprocate the friendly feelings, no? So we hear that our Dabangg dude asked King Khan to say Jai Ho! Well, well, imagine Shahrukh directly promoting his arch rival, Salman's film. Did SRK happily oblige? We hear that Shahrukh raised his hand as if in agreement to Sallu's demand.
In the past, when the duo had hugged, it was before the release of Shahrukh's Chennai Express. This time around, it is just before the release of Salman Khan's Jai Ho, which hits the theatres on January 24. So do these two Khans of B-town plan their hugs around their film's release, we wonder. Wink, wink!