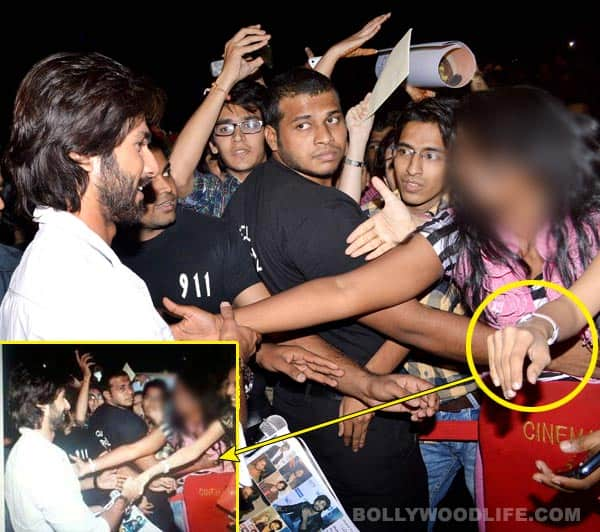 A shocking picture of R…Rajkumar's bouncer taking advantage of the duty assigned to him is doing the rounds. Is it a case of molestation or a pure accident?
Shahid Kapoor was spotted recently at Mumbai's popular theatre. The 31-year-old was promoting his recently released flick R.. Rajkumar. Sasha was heavily guarded by a security cordon comprising many beefy bouncers. The star's charming presence saw the crowd going absolutely berserk and that's when a bouncer was clicked doing something that was not only shocking but also highly disturbing.
In this picture you can clearly see the man standing ahead of Sasha- apparently trying to keep the mob in control-groping a girl.
This pic doing the rounds in the internet space and it has also been handed over to Additional Commissioner of Police Vishwas Nagare Patil. "This photograph is circulating in the media. We are yet to receive an official complaint. However, a similar case had taken place at Lal Bagh Ka Raja during Ganeshotsav festival. We are contemplating on how to take the necessary action," maintained Nagare Patil.