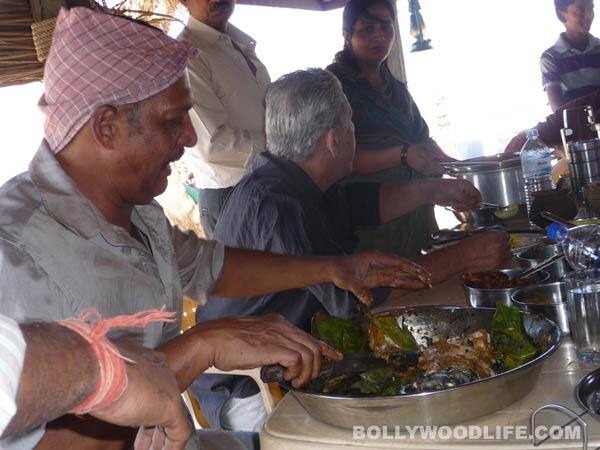 skip advertisement
'Coz we all know that the temperamental actor is infamous for slapping his co-stars at the slightest provocation
Superstar Amitabh Bachchan holds 'the angry young man' title in reel life, but in real life the label undisputedly belongs to Nana Patekar. Remember the stories of how the fierce actor hit his co-actor Anurag Kashyap on the sets of Shagrid, and his then girlfriend Manisha Koirala during the Agnisakshi shoot?
We chose to ignore the happy stories of Nana bonding with his Kamaal Dhamaal Malamaal co-stars over yum biryanis and delectable fish. And directly asked Shreyas Talapde – who teamed up with the moody man in Priyan's comedy for the first time – about his experience working with the ace actor.
"Kaka (Nana Patekar) considers me a son-in-law and he's very protective about Dipti (Shreyas's wife) and me. He will love you, but will also shout at you," says the Joker actor, and divulges an incident that occurred on the sets. "Nana wanted me to perform a few sequences in a particular manner. So he very authoritatively told me to show him how I would act the scenes. I told him that I will show him in a bit, but he didn't agree. So I had to show it to him right then. If someone else saw the interaction, they would find it offensive."
But then that's how Nana is, says Shreyas, and reveals, "Given his temperament, the first day on the sets was a little tense, 'coz no one knew what his mood would be. But I think the third day he figured out that everyone was stressed 'coz of him, so on the fourth day he became like a kid – dancing, joking, playing games and cooking for us. I think two per cent of the shoot must have been a little tense. Some day something would go wrong and he would lose it. That way he can be unpredictable and unreasonable at times."
Hmmm. Does that mean the angry man has mellowed? We certainly hope so!