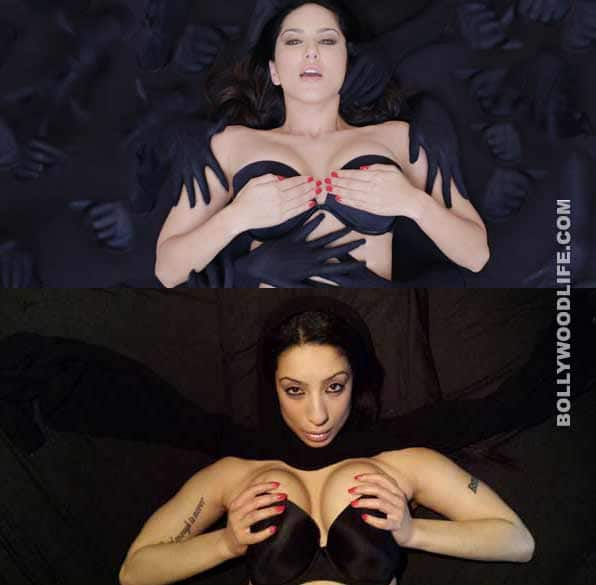 skip advertisement
Shanti-Dynamite-sumnny-leone
Looks like the Jism 2  and ex-Bigg Boss contestant actor got too influenced by her rival
Bollywood has always been in the news for 'stealing' or 'lifting' ideas from their Hollywood counterparts. However this blatant copying is euphemised as "inspired by" these days. Many filmmakers in Bollywood have sought 'inspiration' from the west and the latest addition to the list is Ekta Kapoor.
Wondering, what are we talking about? Well, the story goes something like this. If the recent reports are anything to go by then the Balaji head honcho got the former adult movie star ape Playboy girl Shanti Dynamite for Ragini MMS 2.
Yes, Shanti has claimed that Sunny Leone has copied her outfit and style in the sequel of Ragini MMS. For those of you who don't know, Shanti and Sunny share a not so good relationship. It all began when Shanti beat Sunny and was ranked number 48 in the list of top 50 Sexiest Asian Women.
If you take a good look at the picture (and we are sure you would want to), you will know that there are stark similarities between Shanti and Sunny's outfit. To an extent that you just can't call it a mere co-incidence.
Hmmm. Now this is something, isn't it? Well, looks like Sunny got too 'inspired' this time and that too from her rival. Tch tch! Anyway, now that the ex Bigg Boss contestant have copied Shanti, tell us who looks hotter among the two – Sunny or Shanti?