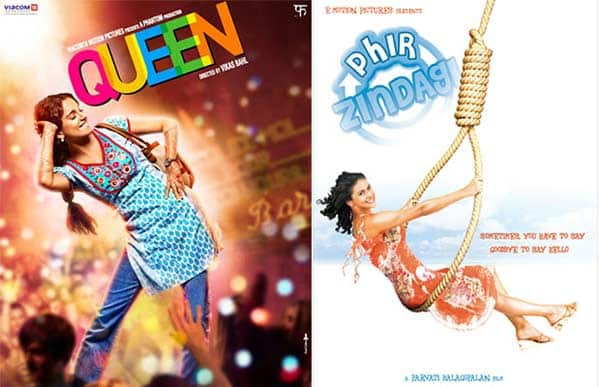 After zillions of movies having been copied from English flicks, here come one that has been copied from even more locally
Kangana Ranaut's Queen has been appreciated by classes and masses alike but the latest buzz doing rounds is that the film is a complete copy of another film. Now we have heard Bollywood movies being copied from foreign movies, but this might be a first where a Hindi movie has been copied from another Hindi movie itself. 
If we recall Parvati Balagopalan's Phir Zindagi, starring Gul Panag and Milind Soman, also had an exact similar story. The movie was based on Abhigyan Jha's story of the same name. Phir Zindagi too depicted a woman who is about to get married, who decides to go on her honeymoon alone and thereby learns to live life on her own terms. Our khabroos also inform that Abhigyan had shown Phir Zindagi to Vikas Bahl back in 2006 when he was heading UTV Spotboy and that is how he must have had got the idea to make Queen.
Although Abhigyan accepts that the presentation of the film was completely different, but the story and plot is similar.  He was miffed that credit given to either him, Parvati Balagopalan or Phir Zindagi. Abhigyan alleges that some sequences like the hero coming back to the girl when she has undergone change, their breaking up at a coffee shop are exactly copied from Phir Zindagi. Talking to a leading daily Vikas Bahl refuted all such stories and maintained that his story was original.
Now only time will tell whether there is some legal action taken by Phir Zindagi people or will they just let it pass. What do you think BollywoodLifers?