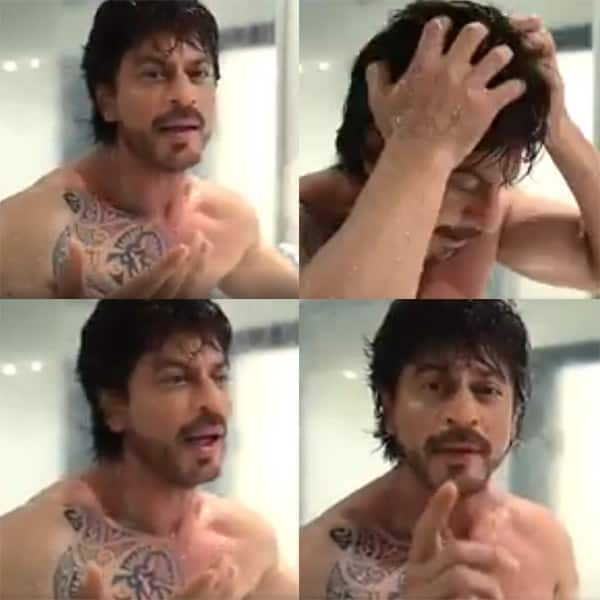 Shah Rukh Khan is sexy personified. Now who can look as hot at 50. Clearly age is just a  number for King Khan.  he has managed to charm us with his wit and woo us with his dimpled smile. Like wine he's only getting better with age.Well right now we cannot stop gushing about him coz of his latest shower video. Yes! This man is in a mood to kill all the girls out there.
SRK can you just stop right now! The good news is girls; your dreams have come true. I mean come on, who hasn't fantasised about him at least once in a lifetime. This video will make your fantasies come true. And we have captured the hottie in 10 frames. The video of him showering was for his Dear Zindagi promotions where he answers Alia Bhatt's question. Just yesterday we saw how impatient Alia was, and now she has managed to film SRK in the shower.
SRK's video begins with the actor singing, "Dear Zindagi, gale laga le. Oh oh oh, what are you doing? Alia you're so impatient! I told you to wait till Wednesday. Okay, here's a little something to get you by your Tuesday. Here's a poster of Dear Zindagi. Enjoy. And do wait till Wednesday for the real thing.
Now go away. Shoo shoo!". Oh SRK pls don't shoo us away, now this doesn't happen every day, seeing you taking a shower. Right girls?  Shah Rukh we just cannot keep our eyes from your HOT BOD. And what's that tattoo? To all the young boys, kindly take a cue from the King of HOTNESS himself to make the girls go weak on the knees.
Girls treat your eyes to these stills of Shah Rukh Khan in a shower…
Now guys do come back tomorrow for Shah Rukh – Alia's Dear Zindagi trailer right here!