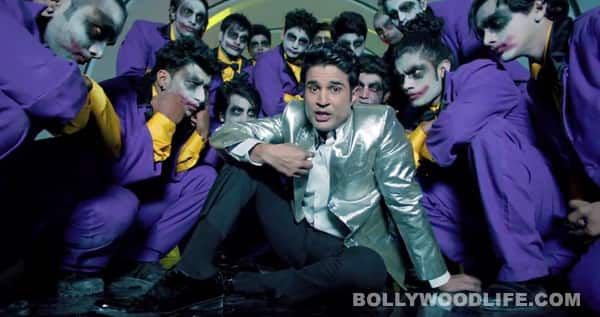 The actors are in a full-on rapping mood in the new title song of Table No.21
As Rajeev Khandelwal is seen rapping away to glory in this new number from Table No. 21, Paresh Rawal surprises us by appearing in a stylish avatar. The two actors entertain us by mouthing funky lyrics in this track. And while it's quite amusing to see the usually intense Khandelwal get into a groovy mood, the real surprise element here is Rawal. He is very effortlessly keeping pace with this pacey number. And his fedora and bespectacled look is lending him a super sinister look (which is the requirement of the film, of course!).
There is a rapping portion in this fun song, which give us uncontrollable giggles. The actors are trying to adopt the body language of a professional singer, and are being all cool and happening…obviously this one undoubtedly makes it to our lost in translation list!
Mujhse ab meri kismet ke fasane na kaho
Me with my fate stories don't tell
Katra katra jee raha hoo bahane na karo
Drop drop living, oo yeah excuses don't do
Paisa aisa kaisa paisa
Money like this, what money
Paisa aisa kaisa paisa
Money like this, what money
Umeedo ki tum meri neelami na karo
Expectations you mine bid don't do
Tumne jhooth bola toh tum mare
Table no.21
Mez kramank Ikkis