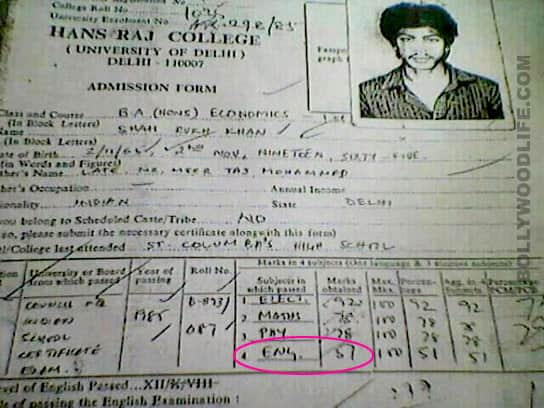 We discovered this little known fact from a photograph of the superstar's admission form that has been doing the rounds in the virtual world
The next time you are reprimanded for your English reading or writing skills, say you are talking to the future Shahrukh Khan! Want to know why we are saying this? Well, we stumbled upon a photograph of the superstar's admission form, applying to the Bachelor of Arts course at Hansraj College, Delhi's well-known educational institute. And we thought it was quite ironical that SRK, who is known to have a way with words and is said to be an avid reader, was actually just about average in English back in school. While he scored highest in Electronics, which apparently was one of his favourite subjects, he scored a meagre 51 out of 100 in English, in his 12th grade exams. Isn't that shocking? Especially since, anyone who has interacted with him or has been to press conferences held by the Badshah of Bollywood can vouch that his poor English skills have not been obvious even once.
SRK is not only an erudite speaker but articulate, funny, sometimes sarcastic and always entertaining. Was his communicative finesse an inherent quality that got honed over the years or a skill he acquired at the illustrious Jamia Millia Islamia where he studied mass communication? We are not sure. What we do know is that this superstar has the habit of achieving whatever he sets his heart on. So all you people out there who suck at English, please take a cue from the King Khan!