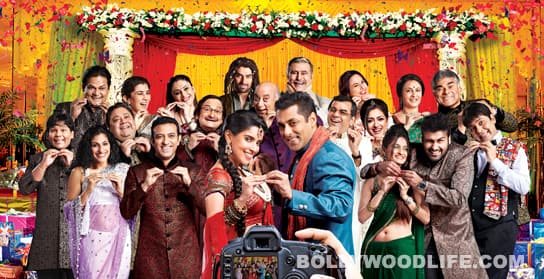 It's loud, ludicrous and lame, but still a laugh-riot, we all think…
My friends had warned me to stay away from this harebrained film. From the promos, I knew that Ready was not like Dabangg – the latter seemed to have a far better story line. Yet, in the second week after release, I pushed aside all doubts and headed to the theatre. Tickets were almost sold out, with Hum Saath Saath Hain-type happy, big families, jeans-and-tee clad teeny-boppers, frail looking grandpas and grandmas…they were all there.
The title credits rolled out in a cheesy way – vibrant animated backgrounds – perhaps to tell the audience to switch off their collective thinking mind and switch into a suspension-of-disbelief zone to avoid deep pain and angst.
Ready has a simple story: The apple of the Kapoors' eyes, Prem (Salman Khan), a young man a tad spoilt – but then it's all about loving your family – gets tricked by Pooja / Sanjana (Asin) into believing that she is perfect bahu for him. But she has an agenda; she is trying to run away from her maternal uncles who are at each other's throats. They want to take over her inheritance worth millions, so both are trying to get her married off to their respective brothers-in-law. After some initial tu-tu-main-main, Prem discovers Sanjana's reality and decides to help her. He also promises to fulfil her mother's death wish – of uniting the two brothers-at-war. Prem cons chartered accountant Baalidan Bhardwaj (Paresh Rawal) to accomplish his task. Obviously, it all ends well.
Purist cinema-watchers will complain of some manipulation of script and lack of logic in the film, but then this is not a film where you expect either. For instance, the coy and scared Pooja suddenly turns into an over-confident, conniving woman at the airport. Or Prem fools the family pundit into believing that the dog is called Pooja. Or Balidaan falls for Prem's flattery and hires him as an assistant. It is Farhad Samar's tongue-in-cheek dialogue, the tightly paced situations and highs and lows in the drama of the screenplay that ensure that it is the entertainer that it promised to be. It was prefect rainy day fare. The cheering and clapping during the film and happy faces walking out at the end was worth all the silliness and complete lack of sense in the entire film.
Since it is such a contrived plot, there was hardly any scope for acting. But everyone, from stand-up comedian Sudesh Lehri to Salman Khan, does a great job at playing buffoon. And a good time is had by all!