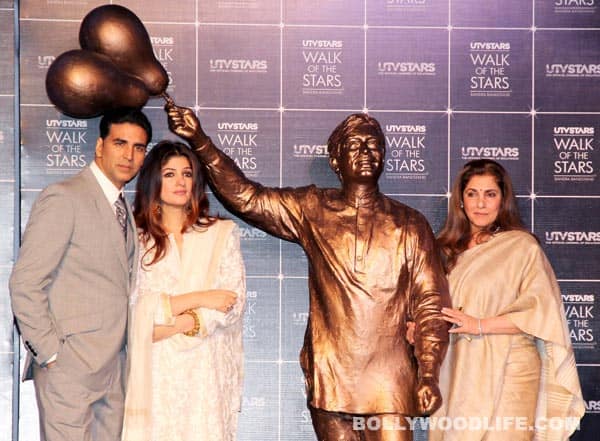 Recently, a bronze statue of Rajesh Khanna was unveiled at Bandra Bandstand, where his wife made some humble requests
A bronze statue of Rajesh Khanna was unveiled recently in the presence of his estranged wife, Dimple Kapadia, daughter Twinkle Khanna, son-in-law, Akshay Kumar and several other B-town celebs. The statue will be kept in the company of other prominent Bollywood personalities like Yash Chopra, Raj Kapoor, Shammi Kapoor and Dev Anand.
At the event, Akshay Kumar read out a note penned by his son, Aarav. Khanna's daughter Twinkle said, "He is in my heart and he will always live there. It is a sentimental moment for us but as a family we are happy with this initiative."
Dimple too shared a few words at the press conference. She said, "Kakaji (as Khanna was fondly called) was energetic, he lived and died on his own terms. His contribution to cinema is unparallelled, he was the first superstar. His courage, bravery and fearlessness was even there during the time of his death. In real life he was Anand and he lived like Anand." The statue shows Khanna carrying two balloons in his right hand, which is one of his iconic poses from his film Anand.
Dimple then made a request to Union Minister of State for Parliamentary Affairs, Rajeev Shukla. She requested, "He [Khanna] was a Congress man. My request is that a road or a 'marg' be named after him. Also, if Carter Road could be named Rajesh Khanna Road." Reportedly, Carter Road was to be renamed after music director, Naushad Ali in 2008. However, if it's not renamed after Naushad Ali, Shukla will drop in a word to the Chief Minister.
Well, Rajesh Khanna resides in our hearts and Carter Road has its own place in every Mumbaikar's heart. Just the way Kakaji will always remain the superstar of Bollywood, Carter Road will continue being Carters… Don't you agree, BollywoodLifers?