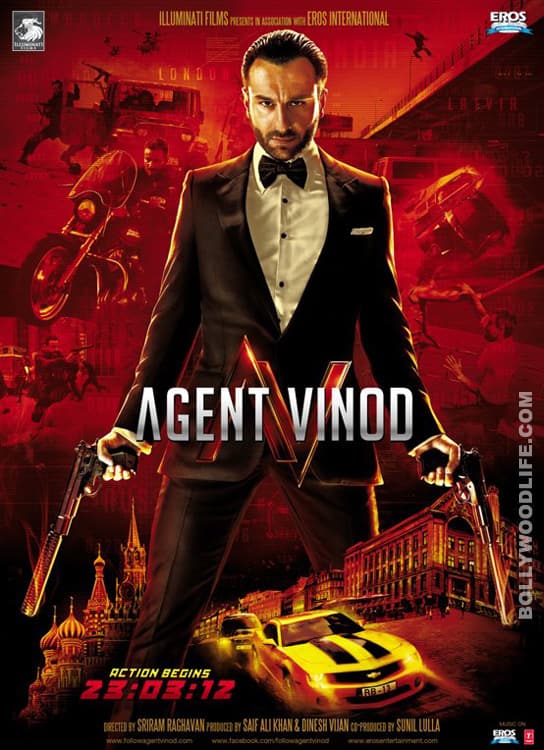 The producer of Saif Ali Khan's next film, an espionage thriller, is confident that it will connect with the audience
Dressed in a casual tee and ripped jeans, Dinesh Vijan, who is not just a MBA in finance but also a creative brain, spoke to us about his 'boutique' production house, his equation with the directors and the 'Pyaar ki pungi' song rip-off controversy
Sriram Raghavan told us that he decided the shooting locations of Agent Vinod based on his fantasy holiday ideas. How did you react to that as a producer?
When we make films, the primary idea is to first agree upon a script and then ensure that the director gets everything that he wants that the film demands (justifiably so). We are not thinking about saving money all the time. Our previous production, Love Aaj Kal, was supposed to be set in Delhi, but I suggested that if we set the film in London it would give it a better look and Imtiaz agreed. So it isn't about saving money; the final product should be great. Creative as I am, I have also done a MBA in finance and I am good at number crunching, so it helps making decisions which are balanced.
Your production house, Illuminati Films seems to have become huge, that too with a single film. Wasn't it a little risky to make a film like Agent Vinod?
I met Saif while I was producing Being Cyrus, in which he was playing the lead role. It was an indie film, but when I read the script, I felt it should be made. That was when I and Saif hit it off, thanks to our similar taste in movies, and Illuminati Films was born. Actually we had green-lighted Agent Vinod and Love Aaj Kal within a span of five days. Back then it wasn't feasible to make a film like Agent Vinod, so we went ahead and made Love Aaj Kal, which had universal appeal, thanks to its genre.
Since then, equations have changed, especially after Jab We Met went on to become a huge hit and both Imtiaz Ali and Kareena Kapoor became the most sought after names. As a production house, we are the antithesis of every attribute associated with one. We are a boutique production house and wish to make films that we like, one at a time. Our next film, a Saif-Deepika Padukone-starrer temporarily titled Cocktail, is ready and will be released in July this year. I am sure Agent Vinod will connect with the classes as well as the masses.
People talk about the similarity with James Bond flicks, but I think the only similarity is that both are secret agents and that's about all. I don't want to talk about the film crossing Rs. 100cr at the box office in the opening weekend, but at this moment I only hope that people watch it and that they enjoy the ride. We have worked really hard at making this film and it means a lot to us.
Your production house has been sued for copying the 'Pyaar ki pungi' song by the Iranian band Barobax – what is your reaction to the allegation?
As a production house, we take great pride in the music that we have in our films. Though Agent Vinod is a thriller, it has five songs in it. As I said earlier, we are the antithesis of every popular perception. You look at the 'Dil mera muft ka' mujra song – you will notice that the remixed version is the real mujra. You get the drift?
Coming to the allegation – I think it is totally uncalled for. (Sings the 'Pyaar ki pungi' song) You tell me, is there any similarity between our song and the one that we have allegedly copied? The song has been out for about a month now and has been topping the charts all over. Why did they choose to sue us now? I think it is totally unfair and the sad part is that Pritam is being denied his due, even after making such an awesome song.