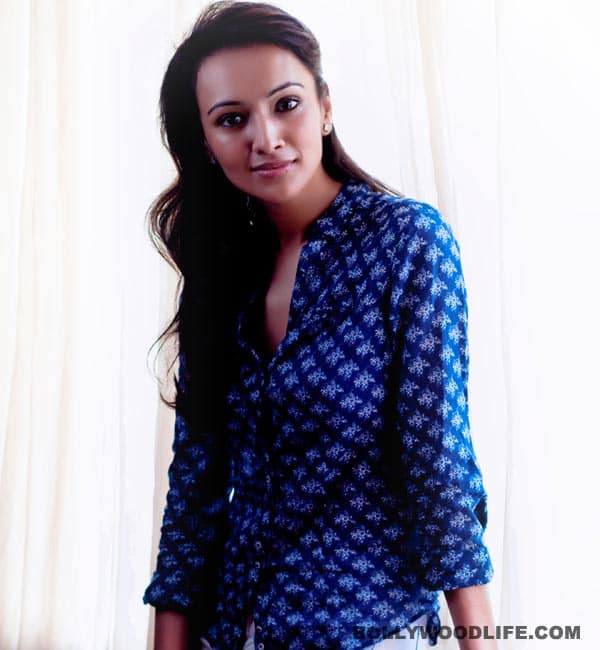 The Ladies Vs Ricky Bahl babe celebrates her 36th birthday today!
Born on November 2, 1976 in Assam, Dipannita Sharma is a supermodel-turned-Bollywood actor. She came into the limelight after making to the final five of the Miss India 1998 contest. She was also judged Miss Photogenic in the beauty pageant. She made her Bollywood debut in 2002 with Milind Soman, Danny Denzongpa and Aditi Govitrikar in 16 December. Later she appeared in movies like Koi Aap Sa and My Brother Nikhil. More recently, her performances in films like Ladies Vs Ricky Bahland Jodi Breakers were appreciated. We caught up with Dipannita last week to know more of her fascinating journey in the world of glamour….
Most models these days use their careers as a stepping stone to the more glamorous world of Bollywood. But you, in spite of working in movies, have always maintained that you are a model first….
I love the world of fashion. It is my first love. For me, modelling is a full-fledged career. My love for it is so profound that I could never have used it as just a stepping stone. I wanted to establish myself as a good model first. For me, films are a creative outlet. So whenever I get something nice to do in films, something that challenges me, I do it. For me, it's important that when I do something good, people appreciate my work. But yes, modeling is, and it will always be my first love.
How did you get into modelling?
Modelling happened when I was still in Delhi, doing my graduation. In the final year of my course, I participated in an intercollegiate fashion show-cum-new face hunt kind of competition. There I won a free portfolio and my pictures came out really terrible.The first portfolio did not come out as impressive as I thought. So when I walked into agencies with that portfolio, people would look at me first and then look at the pictures again and say, 'Please don't circulate these pictures anywhere!' (laughs). Some big photographers actually told me that 'We will take your pictures, but don't get the ones you have'. Later I did more modelling assignments in Delhi and did editorial shoots for fashion magazines. But things really turned around for me when I participated in Miss India 1998 and won the Miss Photogenic title.
Did the thought of acting in movies cross your mind then?
I grew up in a family where we always got support and encouragement for cultural and creative pursuits like singing, dancing, and drama. My mom was active on stage even though by profession she was a teacher. My uncle Bani Sharma is the pioneer of Assamese films and theatre. My nani used to write plays, so did my mom and we were guineapigs who worked in their plays, happily. I did all that, but when I started modelling, all I wanted to do was to be a good model.
Then how did the transition happen from the ramp to the big screen?
When I auditioned for 16 December, which was my first film, I was not serious about the project. As even then I was focussed on my fashion shows. I wanted to travel, wanted to work for the best designers in the country. I was keen to participate in fashion shows and fashion shoots abroad. I wanted to do so many things as a model, but films were never on my mind….
And you actually forgot the audition date of your first film (16 December), didn't you?
Yeah, when the coordinator called me and asked if I was going to attend the audition (for 16 December), I said 'Yes, I am free in the evening so I can come for the audition' (laughs). I did my audition and I told myself, 'Alright, I have done my bit' and I was free to go back to my fashion shows. I completely forgot about the film. Then I get a call, days after that audition.The coordinator asked me come to the studio again. And again I was like, for what? The voice on the phone said. 'Wow, you are amazing. You keep forgetting about your first film!'. Actually, I was shortlisted for the final audition. I went there, gave the final audition and the executive producer of the film said that I was selected. I was also happy about the fact that 16 December was not a regular film where I had to do the things our heroines regularly do – dancing and singing.
Were you also happy with how the film was received by the audience?
It was such a small film. I was very happy that it did very good business for a small film of that budget. It was a genre that was not touched by many people. There was sci-fi in and there were gadgets. In fact, I was playing a commando. I got great reviews for my role. All the actors who were part of the project were appreciated for their performances. I was nominated for a couple of awards in the best newcomer category. I got the appreciation I would have wanted for my debut film.
Post 16 December you were not seen in many films – is that because it's difficult to get a role for models who can act?
My ideal way of working is to wait for offers; that often means that you get seen a lot less.
You mean to say you don't approach anyone to get work?
Yes. That's something I never did when I was a model. And even today, that's how I function. So post 16 December I got back to what I was most comfortable with, as I was getting regular offers from there (modelling). I still had my shows going, my international campaign going. In between all that I would get three or four scripts. But I didn't like any of them.
Interestingly, during those days you shared a flat with Bipasha Basu in Mumbai, with whom you worked in Jodi Breakers years later…
Oh, those were the days! When I moved to Mumbai, Bipasha was already a senior model. We would go out together. We had a great time together. We would watch movies together. Later, I moved to Versova and surprisingly, years later, we did a film together (Jodi Breakers). Trust me, it was a great fun.
How do you react to the general opinion that good models seldom make good actors?
It depends on the individual and how seriously you take what you do. When I walk the ramp as a showstopper, I can't project myself as an actor. But when I'm in front of a movie camera, I obviously give my best as a performer. As an actor you can't worry about things like – If you are facing the camera in a certain way, that makes you look good all the time.You can't expect to have your hair looking perfect, your gloss looking perfect, especially when you are playing a character who is distraught and sad. When you are working on a film you have to be in character, but on the ramp you need to respect what the designer wants. As a model you have to project somebody's creation that you are wearing, in the best possible way. At times, as a model, you even have to make a sack look good – that's your job.
What does it to take to be a good model and a good actor?
Modelling will help you get rid of camera consciousness. You face the audience when you are on the ramp. You interact with so many people unknowingly. In a way, you become a people's person. You become unaware of glamour around you, because you have a job to do. It obviously helps if you are a model. To be both a good model and a good actor you need to be focused and give your hundred percent every time. If you know that you can do things you are passionate about, nothing in the world can stop you from doing them, be it walking the ramp or facing the camera for a film.
After 16 December you were not seen much. Then you made a comeback with Ladies Vs Ricky Bahl and Jodi Breakers. Was it difficult to face the film camera after a long sabbatical?
No, I was around as a model. I was doing my shows. I was also part of films like Koi Aapsa and My Brother Nikhil. Marriage happened, fashion shows were also on. But when I bagged the role in Ladies Vs Ricky Bahl, I really wanted to do something exciting and equally challenging. People kept asking me why I was not doing more films. So when Ladies Vs Ricky Bahl came my way, I said to myself, 'I think this is the role I would like to do'.
You are a successful model, a well known actor and an entrepreneur. How you are going to juggle all these interests and still find time for Bollywood?
I am waiting for the right offers to come by. The satisfaction I've got from the work I've done so far is unparalleled. As far as film offers are concerned, I have always enjoyed the parts I get and the roles I play, but I never made a conscious choice to work in films. As far as my modelling is concerned, I have been enjoying it and do enjoy it even today. And now I am into the yacht business with my husband, as we both love the sea. I believe, if you like to do something, you will find time for it, no matter what!
Watch the full interview!