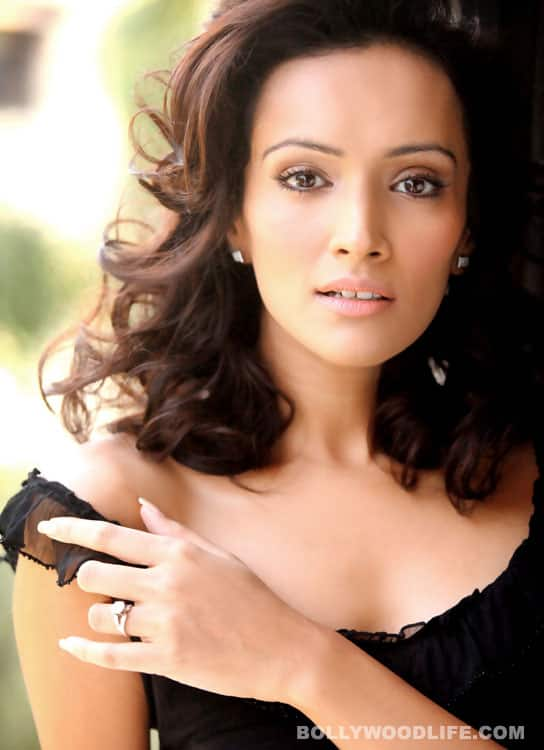 She walks the ramp with élan and slips into the characters she portrays on celluloid with equal grace. She loves theatre, likes to dance and is currently sailing smooth as a yachting entrepreneur. Dipannita Sharma-Atwal talks about her journey from supermodel super-status to Bollywood actor, her new business venture and her upcoming film, Jodi Breakers
Dipannita Sharma loves modelling. It's her forte. In fact, she loves it so much that when she got an offer to try out for a complete Bollywood entertainer, she forgot the audition date.The film was 16 December, starring Milind Soman, Danny Denzongpa, Gulshan Grover, Sushant Singh and Aditi Gowitriker. Eventually, Dipannita went on to do the film, but she doesn't hesitate to say that acting in films was the last thing on her mind. Any other model, budding or established, would have looked at this chance as a window of opportunity to step into the more glamorous world of Bollywood, but Dipannita had her doubts. "I had no idea about the functionality of the film business. I was already an established model and never wanted to use modelling as the stepping stone to break into Bollywood. Modelling is a full-fledged career in itself and I don't think I looked at films as an alternative career. It just happened. And even today I am proud to say that I am a model first," confesses the Ladies vs Ricky Bahl actor. She adds, "When I moved to Mumbai from Delhi, I wanted to establish myself as a good model. I started getting film offers, but never paid serious attention to them. I didn't want to be neither here nor there. In those days I would rather look forward to the next big designer I had to work with or the next big campaign I was a part of. I wanted to make my mark as a model."
It's a cloudy afternoon. Dipannita has just woken up from a nap, which she needed after shooting for a fashion assignment the previous night. She welcomes us in her suburban apartment with a gentle smile and a radiant, happy face. There's no trace of makeup, no miracle bronzer and no lip-gloss on her, but Dipannita is glowing! "Tonight I am attending the music launch of my next film Jodi Breakers and I am so excited!" she says with amazing calm. For the first time ever since her debut in 16 December, Dipannita has two back-to-back releases in a span of just four months. After receiving a fabulous response for her role in Ladies vs Ricky Bahl, she is now gearing up to promote her next, Jodi Breakers, co-starring R Madhavan and her once-roommate friend Bipasha Basu. "The experience of working on Jodi Breakers was amazing and I am getting a lot of positive vibes. Madhavan is a brilliant actor. He really helps you and supports you. We also have Omi Vaidya, who is a riot on the sets. Then there's Helen aunty, with whom I did a play long ago, and we share a great rapport. She's a complete live-wire and has warmth about her. Bipasha has always been a good friend. We shared a house together when she had just started doing films and I had just moved to the city, but we had never worked together in a film. We did modelling assignments and shows together, but never a film. It's always a delight to work with people you already know," says Dipannita.
Though she's been facing the camera for years as a model, portraying a character under the supervision of a director was a different ballgame altogether for Dipannita. How did the transition happen? "My ambitions were never Bollywood-centric. But being a model helped in the sense that facing the camera was never an issue. I have done a lot of ad-films and a bit of theatre as well and it helped! In the course of time I have seen life a lot, done workshops, read a lot and those experiences are coming into play now. I strongly feel one learns a lot on the job." Her debut film 16 December (2002) got a good response. Dipannita says it was not a conscious decision to work in this film and make a debut with an unconventional role. "I was like, let me do this film and if it doesn't work I have a career to fall back on. After 16 December people were curious to know about the next thing I had on my platter. But to be very honest, I was not flooded with great offers, now did I want to do a similar kind of role as in 16 December. So I went back to my modelling assignments. In retrospect, I feel I never made an effort to get another film back then as I was happy modelling."
Dipannita admits candidly that though she was happy to have bagged a Yash Raj film, she was not hyper-excited about doing Ladies vs Ricky Bahl. "It was one more film I was doing for fun, but the experience of working with director Maneesh Sharma was remarkable. I like his sensibility. He's an intelligent director. He pushes his actors and gets the best out of them. There's a great chemistry between the three girls in Ladies vs Ricky Bahl – that's because me, Parineeti Chopra and Aditi  Sharma spent a lot of time together. So we knew each other's timing and reactions. With Anushka Sharma I had done a show long time ago – I think she is one of the best actors we have from the current crop. She brings in a lot of fun and different dimensions to the character she plays. Ranveer Singh is also fun to work with. He brings so much wild energy on to the sets. He's very excited and passionate about whatever he undertakes," says Dipannita.
These days you pick up a glossy or watch a fashion show and you see Bollywood stars gracing the covers and walking the ramp.That definitely is a matter of concern for upcoming models, as Bollywood is encroaching on the space that belongs to models, but Dipannita's concern is different. "I think film divas walking the ramp as showstoppers or gracing the cover of glossies is nothing but a PR drive. It shouldn't be a matter of worry. In my opinion, actors can be showstoppers, but they can't walk or pose like models. A fashion show can't be pulled off by film stars alone. You have to have models to showcase your designs, right? I understand what young models mean when they say actors steal the limelight in a fashion show. More than the designs and creative work that is displayed on the ramp, the show gets reduced to frivolities like which designer is getting which film star as his or her showstopper. One needs to understand that fashion is about creativity. It is about the clothes and style. It's not just about showstoppers. It's a serious business, at the end of the day. What also worries me a lot is the quality of our models. There was a time when we had 20-25 stunning models. Each one was a supermodel with her distinctness. Today all we get is clones!"
For someone who has done some enviable modelling assignments, worked with world-class brands and has some interesting film offers to look forward to, how difficult is it to reinvent? "It's a challenge and I think the trick is not to do anything and everything that comes your way. You need to be open and show willingness to do everything, but you have got to be selective about your work too, especially when you have the liberty to choose. After all, it's the work that makes you who you are. I was very specific about it. Even during my modelling days and now in films too, I tell myself that I need to be a bit choosy to reach a certain place and, more importantly, do the kind of work that gives me inner satisfaction and makes me happy. I am not in a hurry."
Ever since her debut as an actor Dipannita has dabbled in theatre, television and modelling assignments.Nowadays she's playing one more role – that of an entrepreneur – and is experimenting with her new vocation. "I am in the yacht business now and the response we got this year was really terrific. I wouldn't have been able to do it without my husband. He has active participation in whatever I do and is extremely supportive. I give him all the gyaan (knowledge) about almost everything in life – I guess that's what the role of a wife is! He, on the other hand, imparts a lot of commercial knowledge to me. Because I come from a service background, embarking on a business of this scale was unimaginable for me," says Dipannita.
She has many thanks to give, apart from her genetic make-up – a tall frame which she has inherited from her father and a value system that has helped her strike a right balance and stay rooted. "I believe the education my parents imparted to me was holistic. Though they were supportive of my creative endeavours, they were very strict about my studies. Also, the lessons I was taught as a kid help me stay positive, no matter where I go. I feel in today's world you can be competent, but if you are not a balanced individual, it's not going to work.The virtues of being nice, caring and giving work in the world of showbiz too. You don't lose anything by being nice. In fact, it makes everybody's day. One doesn't need to be rude to be honest. I would rather be honest with my niceness. Nurturing these qualities makes me spiritual. They give me a lot of energy. With this energy I am treading unknown waters, trying out different things…and that makes me who I am."