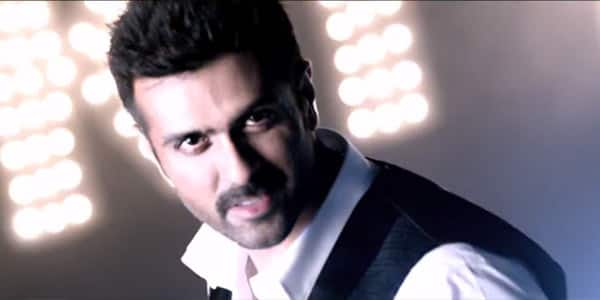 Finally Shilpa Shetty's first production venture Dishkiyaoon has hit the theatres. Frankly, I had no expectations from Harman's comeback film even though his ladylove Bipasha Basu was touched by his performance. However, I was still looking forward to Dishkiyaoon only for one reason – It's a gangster flick and has Sunny paaji but sadly both the elements failed to impress me
Harman Baweja who is making his comeback in Bollywood with Sanamjit Singh Talwar's directorial debut Dishkiyaoon has certainly improved as an actor. He is also seen flaunting his perfectly chiseled body which is indeed a visual delight in this otherwise not-so-great gangster film which also stars Sunny Deol, Prashant Narayanan and newbie Ayesha Khanna. So Dishkiyaoon starts off with Harman narrating his story to Sunny paaji while they both are playing snakes and ladder that too behind the bars. And we must say the makers have shot this whole prison episode quite innovatively coz until interval you won't realise these two heroes are actually prisoners. Coming back to Dishkiyaoon's story, Vicki's (Harman) dream is to be a gangster. Yes, he always knew it. Even though he from a well off family, Vicki chooses to enter the mafia world and his only aim is to reach the top and dethrone the dons of Mumbai. And all this starts when Vicki meets Mota Tony (Prashant Narayanan) who is a mobster. While Tony believes in the power of bullet, Vicki believes he doesn't need a gun to achieve his dream. The new age gangster mantra is – being smart is enough. Well, that's what you get to learn from Dishkiyaoon. Sadly this funda didn't work for us and nor it did for Vicki in the film. So the first half is all about how Vicki lands up in the world of drugs and sleaze. How he falls for a girl who is absolutely okay with his profession and most importantly why he is in prison.
In the second half, Vicki is out of prison and gets involved in a lot of illegal work like smuggling, making money out of toxic waste and what not. After Tony dies, Lakwa (Sunny Deol) helps Vicki climb the success ladder in the gangster-land. However, Lakwa's unveils his true identity at the end. Is he a cop or a spy? Does Vicki succeed in his mission? Well, you need to watch the film for that.
What's good about Dishkiyaoon?
Prashant Narayanan as Mota Tony is super fun. In fact, he is the only one in the film who looks convincing as a gangster. Harman and Sunny mouth some dhasu dialogues but action wise there is nothing in Dishkiyaoon. The car chasing scene shot in the dessert of Tehran is pretty amazing. Lastly, Arijit Singh's romantic number Tu hi hai aashiqui is the best part of Dishkiyaoon.
What's bad about Dishkiyaoon?
Shilpa's debut production venture lacks a gripping story and logic. Harman's Harminator avatar isn't impressive except for when he is shirtless and flaunting his torso. The climax of the film is actually interesting. But it would have been so much better if the story leading to the climax had made any sense. What's even more disappointing is the fact that Sunny Deol has no action scenes. Agar dhai kilo ka haath ek baar bhi uthta toh shayad Harman ki film bhi chal jaati. Also, Deol speaking in Haryanvi is so-not-cool.
Verdict: Want to test your patience – go watch Dishkiyaoon!
Rating:
out of 5
Reviewed by Namrata Thakker
* Poor
** Average
*** Good
**** Very good
***** Excellent