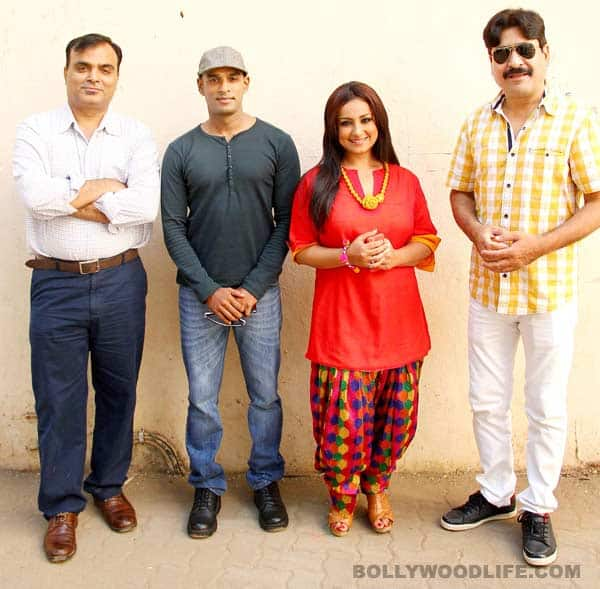 The story of Manjunath revolves around the life of a manager of IOC who was murdered for sealing a corrupt petrol station in UP
The biopic made on the marketing manager of Indian Oil Corporation (IOC) who was murdered for sealing a corrupt petrol station in Uttar Pradesh is up for release this week. The film has already set the buzz ringing with its intense storyline and authentic structure and is touted to be one of the big films releasing this week. Divya Dutta, director Sandeep Varma and debutant Satiiysh Saarathy aka Sasho take us into the inner world of Manjunath letting us know everything that you would want to know of this film
What made you choose a subject like this for your debut film?
Sandeep: The story of Manjunath is very relevant today. Moreover, since it's a true story, it's much more believable to the audience. Also, I was so inspired when I heard of it that I was compelled to make it. It's indeed an extraordinary story of a very ordinary man. His life story and also what happened after him is very interesting. On celluloid directors often have to make a hero, I dint have to do that, Manjunath was already a hero.
You took over five years to make this film. Was there a moment when you wanted to give up on the subject considering the time, money and research it demanded?
Sandeep: I actually was scared in the beginning as the story had to be made in a very authentic form. Also, I had to invest my own money in the project, clear out my savings and probably take some loans. So indeed I was scared. I also went back to Manjunath's parents whose permission I had taken and told them that I have the script and can talk to a couple of big directors who would want to make this films because big names attract funding in the market. However I was stunned to know when they said they trust me and will withdraw their permission if anybody else will make the film. So I finally managed to find some courage or let's say was forced to get some courage to make the film.
Divya, what made you choose Anjali's role?
Divya: For an actor it's always very instinctive. I always take up work which I would thoroughly enjoy doing it and should interest me to work on it. For this film the interest factor even went a step forward, I didn't only enjoy this film as an actor but also relished the film as a human being. It helped me grew as a person, taught me so many things and this inclination towards the role helped me play Anjali very well.
How different or similar is your character in Manjunath as compared to your previous hit Bhaag Milkha Bhaag?
Divya: Oh there is a lot of difference between the two characters. My character in BMB was nothing like me in real life. She was one woman who will express herself only in tears. She is inherently a silent woman. Irrespective of the situation, whether it's a moment of happiness or tragedy she has always shed tears and that is not what I am in person. When I saw the film myself, I realised every scene that I did had different layers to it and I really discovered my own self. It made me wonder that OH I can even do that. However, In Manjunath the character of Anjali is much closer to me as a person. The character really inspired me and made me take up a number of causes that I believe in and also encouraged me to speak my mind with conviction and courage.
You've probably won all the awards for Bhaag Milkha Bhaag this year. How does it feel to be a recipient of so much love and adulation?
Divya: Well I think it's definitely a tonic for an actor and is also very reassuring. I really admire the kind of love this particular role has brought me and will cherish all my life. These kinds of films are very rarely made and when people come up to me and appreciate my work, it's really flattering. I have got messages from people whom I don't even know. For an actor there is nothing more flattering than this.
Sasho how challenging was it for you to essay the role of Manjunath?
Sasho – Of course it was challenging considering the background the film has, however, luckily for me half of my work was done by Sandeep Sir. He had done all the research that was necessary, so my only job left was to play the role with utmost sincerity and dedication. We did intense sessions for three to four months to prepare for the role. Moreover, when Manjunath's father said that while watching the film he felt that his son was speaking to him, I think that was something that really reassured me of my work in the film.
Sasho, what does your name mean?
Sasho – My real name is Satiiysh Saarathy. I am also a singer, I perform at various shows. So my mentor who gave me my first break suggested that I should use Sasho as my name and Sasho is nothing but a short form of Satiiysh Saarathy. So since then everybody knows me as Sasho.
How did you react when you were offered the film?
Sasho – Sandeep Sir spotted me in Bangalore where I was performing for my show. He liked my performance so he called me for an audition. I gave my auditions and after a while he confirmed that I suit the role. Indeed that feeling took time to sink in.
Sandeep, your film posters have a tag line called 'Idiot tha saala'. What do you wish to convey through this tagline?
Sandeep – That's actually the identity of the film and is not just the promotions. We often consider people like Manjunath who dare to stand against wrong deeds and risk their lives for a cause as stupid. As much as we admire on the face, at the back we hardly appreciate. So the tag line comes from there. I think it's very unfair to call them idiots considering Manjunath was very brave, he took a stand and stood by it. So it's not actually stupid but that's how it's considered in the real world.
Divya what other projects are you working on currently?
Divya: After Manjunath, there is Traffic which is with Manoj Bajpayee. Then there is Aayee Bala Ko Taal Tu, a political satire with Rishi Kapoor in the lead.