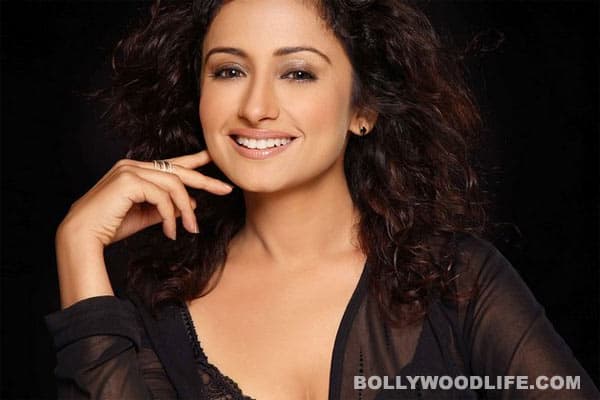 The actor plays Riya Vij's cool and crazy mother in Karan Johar's Gippi and she reveals how sharing screen space with a bunch of young kids was amazingly adorable
When we ask Divya Dutta about her experience playing the protective mum in Karan Johar's Gippi, she emphasises in her gentle persuasive style that she felt 'protective and protected'. Self-professedly 'fortunate' that she is having the time of her life acting in some of the most incredible films, Divya reveals that the rest of 2013 is jam-packed with big banner flicks like Lootera and Bhaag Milkha Bhaag.
The actor playfully forms ringlets in her hair with her fingers and we wonder if that's her way of stirring up those dormant thoughts, and make the most of the conversation. She gets vehement, takes a break and brings her playful side to the fore, leaping straight into contemplative mode. And we try to make sense of the many moods of Jalebi from Delhi-6, Shanti from Special 26, et al…
Was working with kiddies all around chaotic?
For me it was like going back to my childhood, 'coz I've had a single mom myself. So I could relate to the role and my mum is as crazy, loving and responsible as I am in the film. This is something I thoroughly enjoyed playing, as you are not just one person going straight – life is not about being one person – you react differently to different situations. So in some places she's a total kid woman, very vulnerable, very emotional, and in some places she's like an absolute buddy to her daughter, who dances to Shammi Kapoor's songs. I guess this is something that happens in every household. Some day I would want to be a mother like that. I've had a great childhood with my mother. So it was great to be with children; I think they bring a very fresh, exuberant kind of energy around you.
Did you become a kid yourself?
From within I will always be a child woman. I will continue being so even when I am 60 or 70, so I think that child in you should never die, 'coz that's what keeps you rooted. When I go back home, I am back to being a child woman.
You have done wonderful character roles – do you think these kinds of roles don't get the importance they deserve in Bollywood?
I think these days even the leads are playing character roles. It's become that kind of a scenario wherein even a hero would want to play a character role 'coz it gives you much more meat. Be it a Ranbir Kapoor or an Irrfan – they all do it. Now is the time when people are experimenting with different stories and characterisations. Fortunately I've been given roles that always have a special flavour – be it a PR chick in Heroine or a cop in Special 26. I carved a niche for myself which is just mine and people call me for something different every time. Somebody complimented me saying that I remind them of Sanjeev Kumar – the female version – and somewhere subconsciously that influenced me to carve a niche for myself where I could play the lead, play a central or a character role and just get noticed.
What did you take home from this film?
I am taking back a great lesson of 'being yourself'. You should never lose yourself to anything in the world; sometimes we actors take ourselves too seriously and expect people to do the same, conveying to them that we are someone of great repute. I think you should just cut yourself some slack. I like the space Sonam (Nair) – director of Gippi – is in, she is totally herself. I love that attitude in everyone.
How have you dealt with your professional life over the years – have you been supremely focussed, or you have gone with the flow?
I am a go with the flow kind of a person and I believe that what is destined for you has to happen even if you try or don't try for it. But you have to keep doing your karma.I have become extremely selective about my work because it's very important to work with good filmmakers. This year has been great for me – Neeraj Pandey, Madhur Bhandarkar, Karan Johar – I got to work with all of them.
Have you ever been stereotyped?
People have tried to, but I don't let them.
What's your strategy?
(Laughs) You know how much work I've let go? My mother thinks I am a mad girl. This industry is all about herd mentality. Once you give them a hit, they will only see you and nothing beyond you. I hate that.
Don't you think it's unfair to blame them as usually a lot of money is invested in a project, so obviously they would like to play it safe…
It's all about making an effort. After Veer-Zaara, I was flooded with offers that required me to play a voluptuous, bubbly Punjabi girl. And I was like 'Shut up, I don't want it' and then a Rakeysh Omprakash Mehra comes along and gives me Jalebi's role in Delhi-6. An Amol Gupte gives me a Stanley Ka Dabba. Madhur Bhandarkar gives me a role that is totally different from what I have done before. In Gippi I play a crazy mum – so the distance that you have between a mother and a child, this film is going to cover it beautifully.
What were you like as a child?
I just had a school reunion and we all were discussing each other's school crushes and I was heartbroken 'coz I was nobody's crush. They all thought I was one of the guys. In my school days, I was a disaster. But also, I was a great combo of being a head girl and a brat. I was given responsibility all my life – be it as prefect of my class or a monitor in high-school – yet I have maintained my naughtiness.