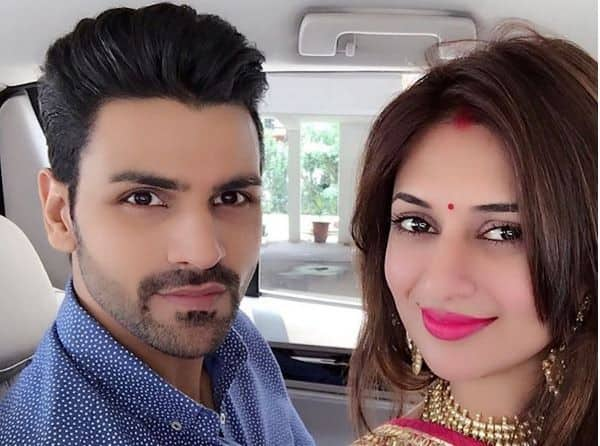 Now, Karwa Chauth is all about celebrating love, togetherness. It's an indian ritual where the wife fasts for her husband and wishes for his long life. But guess Vivek Dahiya is not as excited as wifey Divyanka Tripathi about their first Karwa Chauth this year. I mean, not that he hates the festive but the fact that his sweetheart will have to stay hungry all day is making him feel horrible. At least that's what Divyanka confessed in this recent interview with an online portal. Also read: Divyanka Tripathi Vivek Dahiya Wedding: Check out all the DREAMY pictures of this glitzy affair
Elaborating on how Vivek didn't allow her to keep her first Karwa Chauth, Divyanka said, "Vivek is totally against it as he simply doesn't want me to fast and remain hungry. He keeps telling me that we are together and happy so why fast and strain yourself. However, I am adamant that I will observe the fast because, apart from being an important ritual, it is romantic too (chuckles)." Ahan…not bad Div!
Probe her further if she's even expecting any surprise from Vivek and she adds, " I am not expecting anything from him. If, I come to know that he, too is fasting or something, I will go and feed him myself (Laughs). Because, I know he cannot remain hungry and has to be well-fed. Apart from that, we will go on a late dinner together. If he comes up with any surprise, I will be happy and even if not, I will be equally happy." So much love no? Also read: Vivek Dahiya has been forced to indulge into PDA by Divyanka Tripathi!
For all the ignorant, Divyanka and Vivek got married in July this year in one of the dreamiest wedding ceremonies. The couple compliments each other way too well not only in terms of looks but even the way how they understand each other and know what's best for them. Indeed, they couldn't have got a better happily ever after than this or let's say, 'Yeh Hai asli Mohabbatein' , amirite?
Keep watching this space as we'll be back with more updates on DiVek's first Karwa Chauth, right here only on BollywoodLife.
Divyanka Tripthi and Vivek Dahiya enjoying goodies of royal city

Divek is having a gala time during their mini honeymoon and sharing every bit of it.

Image credit: Instagram

Divyanka Tripathi and Vivek Dahiya pampered by a surprise

The couple came back from a tiring day to this beautiful surprise in their room.

Image credit: Instagram

Vivek Dahiya's selfie in his room from Udaipur

Vivek and Divyanka will head to Europe for their full fledged honeymoon trip after some time.

Image credit: Instagram

Vivek Dahiya and Divyanka Tripathi enjoying boating in Udaipur

Divyaka shared this image with 'Padharo Mahre Des' caption.

Image credit: Instagram

Vivek Dahiya and Divyanka Tripathi's selfie in Udaipur

Vivek and Divyanka tied knot on 8th July and soon got back to their work.

Image credit: Instagram

Vivek Dahiya's selfie in Udaipur

Due to shortage of leaves, the couple could not plan any holiday or honeymoon around their wedding.

Image credit: Instagram

Vivek Dahiya and Divyanka Tripathi snapped in Udaipur lake

The couple secretly went to Udaipur and is share en viable picture from their honeymoon destination.

Image credit: Instagram

Vivek Dahiya shares picture with a localite of Udaipur

Vivek and Divyanka took out time for at least this short trip o Udaipur.

Image credit: Instagram

Vivek Dahiya and Divyanka Tripathi in their room in Udaipur

Divyanka is loving the her room, the serene atmosphere and of course Udaipur.

Image credit: Instagram

Divyanka Tripathi reading novel during her short honeymoon

Divyanka got to have some time for herself, reading novels while having coffee.

Image credit: Instagram

Diyanka Tripathi shares beautiful view fom her room

It couldn't have been better for Divyanka; she shared on her Instagram with these stunning pictures.

Image credit: Instagram