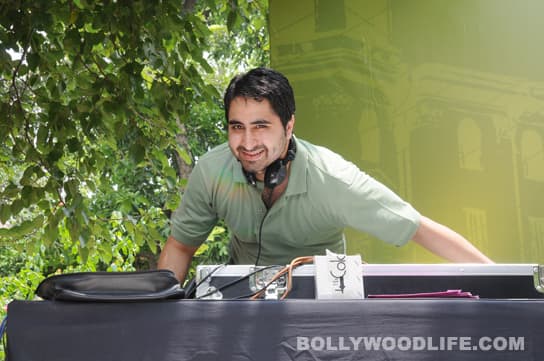 Bollywoodlife catches up with DJ Khushi, who candidly reveals how Shahrukh Khan and AR Rahman changed his life
DJ Khush Soni is slowly but steadily grooving his way up the chart of remixes. He has worked on Chammak challo from Ra.One, Hossana from Ekk Deewana Tha, 'Anarkali disco chali' and 'Right now now' from Housefull 2. And while on this journey he talks about the milestones that defined his course.
Ra.One changed my life
DJ Khushi shot to fame with the official remix of Chammak challo. "Chammak challo was a mixture of everything I could ask for," Soni says. "Ra.One was one of its kind, with all the money involved. Also, there was Akon and helluva lot of promotions. So all put together it was a recipe not easy to create." Thanks to it all, the DJ's remix did very well. "When the remix was uploaded on You Tube it got half a million hits in a few hours. It gave me recognition all over the world. People now know my name. Life has changed and I can't thank Shahrukh (Khan) enough for that."
Working with Shahrukh Khan
Shahrukh Khan wanted the remix to be special. And along with DJ Khushi, Abhijit Vaghani was given the task of remixing RA.One's item number. But Khushi's track made it to the official album. "When I sent him (SRK) a demo, he really liked it. He came to Delhi and said that he wanted it to be a part of the album. So I had to do it within two days. It was all very quick, but at the end of the day it was a good experience," he remembers. And so was working with the Baadshah of Bollywood. "SRK is a very humble guy, very down to earth. He makes sure that you feel very comfortable," Khushi has found about King Khan.
Indian DJs lack support
"International DJs in India get a lot more attention than we do," says Soni. Giving the example of David Guetta he explains, "When Guetta arrived, people went gaga over him. (Look at) how much promotion he got! We don't get that kind of support from the media or the industry," Khushi complains. But he has his reasons for staying put.
I get paid for making people dance to my tunes….
Making people jive is what drives this DJ. "The best part about being a DJ is that I get paid for making people dance to my own tunes, something only women get to do," Khushi chuckles. "The biggest high is when you are playing for a crowd. Everybody has so much stress in their lives. So when they're out they want to forget all that. And if I am the man responsible for them having a good time, it's a great high for me," Khushi says, talking about his passion.
A good melody is, after all, a good melody
What makes DJ Khushi stand out? "I put in a lot of effort into melodies. That's because Indian people love melodies. And all over the world a good melody is, after all, a good melody. So I put a lot of effort into melodies that a layman can relate to. I refrain from going 'bang bang bang," he elaborates. And sure enough, this style got him noticed and that too by none other than music maestro AR Rahman!
Meeting AR Rahman
"I met Rahman at the Filmfare awards," Soni sighs. And that was an experience he'll never forget in this lifetime. "His presence was so strong that I was left speechless. I was briefly introduced to him, but I couldn't talk much because I didn't know what to say to a brilliant man like him." Like every other person in the industry, Soni wanted to work with the maestro. But Rahman isn't a big fan of remixes. And hence the DJ wasn't very hopeful. Then the unexpected happened. "I got a call from Sony Music and was told that there is a song by Rahman that I need to work on. I jumped at the opportunity without asking what song, what movie. Just the name 'Rahman' was enough. I think am the first DJ who has ever remixed a Rahman song (Hossana from Ekk Deewana Tha)."