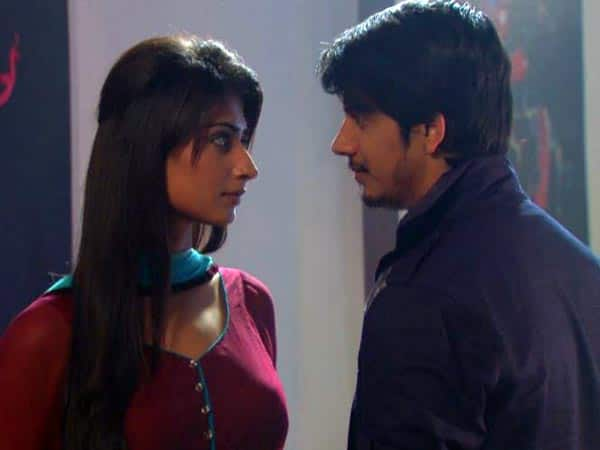 We've heard rumours about the Life OK serial jumping 20 years. And we are told the producers planning to end it. The lead actors have quit. What is going on?
Life OK's Do Dil Ek Jaan starring Nikita Sharma (Antara) and Ayaz Ahmed (Raghu) has been getting low TVT numbers (1494) for some time now. The makers have tried introducing new characters, tweaking the story line and even replacing actors, but nothing is working so far. According to rumours, Do Dil Ek Jaan will take a leap of 20 years and start afresh with a new set of actors. The recent episodes show Antara marrying Satya (Akshay Dogra) after learning that Raghu is her father's killer. In spite of being angry, Antara is unable to hate Raghu. Unforeseeable circumstances always bring them together, making the situation uncomfortable for both characters. On the other hand, Satya – who tricked Antara into marrying him- is upset that no matter what he does, she will never truly be his. Fate will soon bring Antara and Raghu together again, but in death. The story will apparently end with the death of the lovers, and the show will be carried forward by their children.
The lead actors have confirmed in an interview that they are leaving the show. They say that the daily soap will leaping forward in time, and will not include them. Producer Saurabh Tewari accepted that Do Dil Ek Jaan is doing a jump after a month, but was tight-lipped about any resignations.
We've also heard stories about the show ending by February next year. Which makes a time leap pointless, no? Wethinks the makers will probably wait till February to finally decide which way to go, depending on audience response. However, we believe that with Nikita and Ayaz gone, there is very little that will keep the daily soap afloat. Nonetheless, we wait and watch to see what happens next…
ALSO READ
Will Farhan Akhtar and Vidya Balan reveal their wedding woes on Koffee with Karan 4?
Bade Acche Lagte Hain: Will Ram Kapoor accept a new member in the family?
Madhubala Ek Ishq Ek Junoon: Will RK replace Madhu in his life?