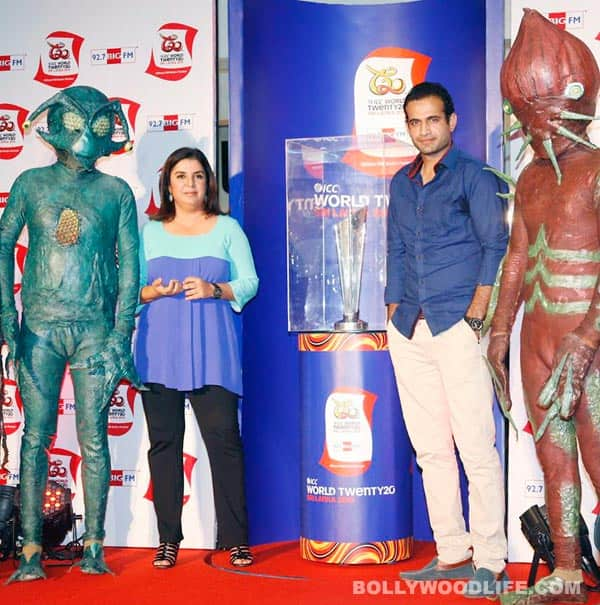 skip advertisement
Unlike the ever-so adorable Jadoo of the Hrithik Roshan starrer Koi Mil Gaya, the aliens of Shirish Kunder's forthcoming sci-fi film Joker look hideous and outright repulsive! Are Farah Khan and Shirish joking?
Everything about Shrish Kunder's Akshay Kumar-Sonakshi Sinha film Joker is quirky and over-the-top. Even the aliens have not been spared by the maverick director. And we thought only Akshay Kumar and Sonakshi Sinha were made to do insane acts in their garish costumes! But one look at the hideous creatures from a distant planet featuring in Joker and you know that there's more to the commotion of Pagalpur – a village where Kunder's unusual tale unfolds – than meets the eye.
Those of us who shed a tear or two when Jadoo – the adorable alien with magical powers from Hrithik Roshan's Koi Mil Gaya – left the earth to go back to his far-flung planet, clearly have different idea of aliens. But Shirsh Kunder's Joker brings back extraterrestrial creatures in a highly unsightly avatar. These aliens are pock-marked, thick skinned, potato-eyed and equipped with ugly tentacles. They are daubed with glorious technicolour – honey-brown, turquoise blue, and purple…hardly the fashion statement we see flying off store shelves or shopping websites. And those manicures! Geez, they should sue the beauty salon for those! We will not mention the hairstyles, which outdo anything at a hair-show, when outre is the norm. Of course, those clothes…or lack of…have us stunned, speechless, wondering what in heck's name could have happened to the designer who came up with these…errr….styles?
While you had this urgent desire to give a warm hug to Jadoo, Kunder's ugly outer-space creatures make for rather more nightmarish material! Going by the promos of Joker, one senses that the spectators will be able to handle these aliens, but will they endure the seemingly horrifying tale of Pagalpur and its people who refuse to be human? We have our legitimate doubts!