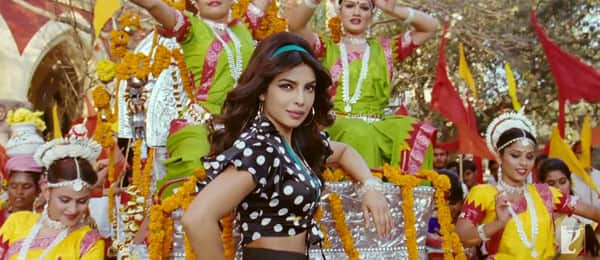 skip advertisement
The sexy actor's specially crafted look in the movie has been deliberately kept away from the public gaze to create curiosity. We present to you some of the unseen pictures of PeeCee from the movie and unveil her fiercely guarded look. Browse through this picture gallery and tell us if the beauty has charmed you with her new avatar!
Priyanka Chopra is playing a rooted Bengali girl in Gunday. The saree and the big bindi speak volumes about PeeCee's closely guarded look in the movie. Set in the most turbulent period in the history of Kolkata (then Calcutta)
– from 1971 to 1988 – Ali Abbas Zafar's Gunday is about two men Bala and Bikram (played by Arjun Kapoor and Ranveer Singh respectively) who rise from their humble backgrounds and become the most powerful mafias. As the duo's notoriety becomes the stuff of legends, people of this sprawling city start calling these two carefree rebels. We have seen the duo sporting their retro looks from the movie where as Priyanka Chopra's looks have been kept under wraps. But we unearthed PeeCee's look from the movie. So here's Piggy Chops unleashing her charisma with her unique style.
These pictures will definitely surprise you if you thought that Priyanka is playing an out-and-out shy and subservient Indian girl in the film. In fact, Priyanka has worn a jazzy costume in nude hues with a golden shimmer to do a special item number which, we are told, will introduce her character in the movie. Now isn't that exciting? A touch of feather and a bobbed hairdo seen in this pic add to the retro effect, we must say!
Clearly the fine actor will be presented in two different looks in the movie. Now you tell us which of Priyanka's avatar you liked better-the jazzy cabaret dancer or the rooted Bengali girl next door avatar?