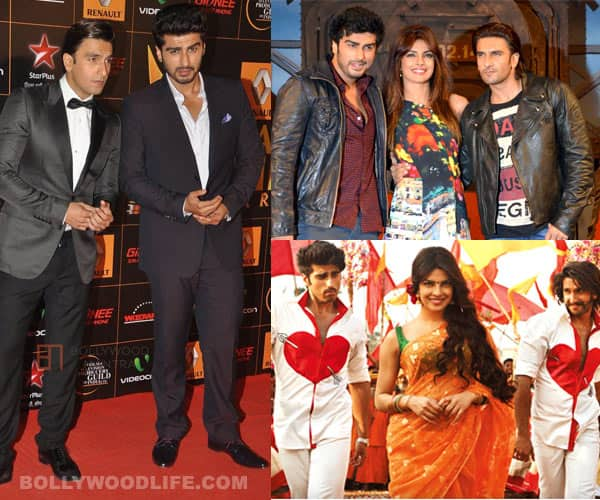 skip advertisement
The latest Gunday on the block-Ranveer Singh and Arjun Kapoor- grabbed by us by the eyeballs with their unapologetically loud and dhinchak style statements. We decided to decode their over-the-top bandhuprem in terms of style to know how these two dudes are kicking the conventional fashion sense out of the style book. Take a look!
The camaraderie between the two boys- Ranveer Singh and Arjun Kapoor- has been the talk of the town, thanks to their forthcoming release Gunday. In fact, the two dashing dudes are making the right noises with their on and off screen chemistry. So much so that at times we tend forget that Priyanka Chopra is also in the picture (both metaphorically and cinematically speaking!) and the movie is not about Ranveer and Arjun's dostana alone. The two men are absolutely in sync. Their energy levels, their dance moves, their screen presence and even their style speaks volumes about the charge the two generate.
Justifying the title of Ali Abbas Zafar's directorial venture these dudes look raw, rugged and out rightly wild. The way they have been dressed speaks volumes about their personalities. The bold colours and outrageous designs have been brought out again in the public eye by these two. And soon these dhinchak prints and retro style statements will find their way in our wardrobes as well.
The closer look at their appearances will reveal that there's an obvious regularity that flows when it comes to accesorsing their garish costumes (the aviators, the bandanas, the open collar shirts and footwear just look hysterical). The approach towards making their characters look relaxed and bindaas is equally meticulous. Even at filmi parties, events and awards functions – even on popular chat shows – for that matter, the dudes are seen in similar attires.
We even wondered if Ranveer and Arjun work for the same music band given the relentless costume parade on and off the screen. The two not only complement each other by employing a range of hatke shades, designs and style patterns, but have also created electrifying bromance and a lot of fun stylishly!