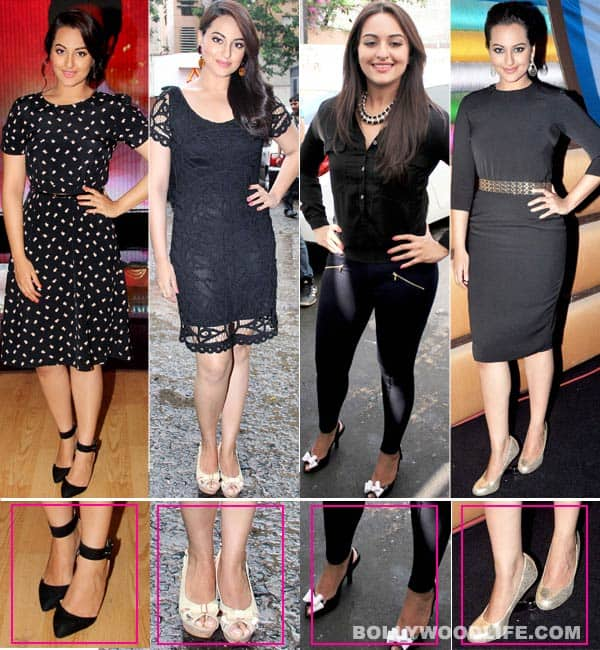 Ms Sinha is finally taking baby steps to get into the fashion police's good books – quite literally, starting with her footwear…
Sonakshi Sinha is one of those actors who prefers conventional black on almost every occasion. Is it because it is a slimming colour or does she like being dark and deadly, we wonder! But on the whole the gal likes to play it safe, not only with the kinds of films she does, but also the clothes she picks to wear. So we were quite surprised when we spotted her wearing a pair of funky heel-less pumps.
Oh, we so loved her fabulously fashion forward joote that we just can't stop singing praises for Sonakshi's choice…this time. So we decided to check out the babe's previous appearances to spot if she's chosen any interesting footwear earlier too and, guess what! Sona, who loves all-black outfits, who prefers Indian over western wear, who likes playing the gaon ki gori in films, is quite experimental with her footwear! We spotted her in a black shirt and pencil-fit pants teamed with a pair of really cute black heels with a white bow. Droolworthy, aren't they? On another occasion, she was seen in yet another black dress, netted this time. The wedges she chose for that frock were so sexy that any girl would want to get their hands on them… err… feet in them. As difficult as it may be, take your eyes off this pair, 'coz we've found yet another pair of shoes with a touch of spunk worn by Sonakshi. Needless to say and repetitive as it may sound, she was in a black dress, but the ankle strap heels that she had on were oh-so-enviable, hai na?
Now that we're done gushing about Sonakshi's shoe fetish, we're sure that the shopaholic in you is craving to get a pair of these funky foibles for your feet tucked into your closet. Here are a few options that you can lech over…and buy, of course!