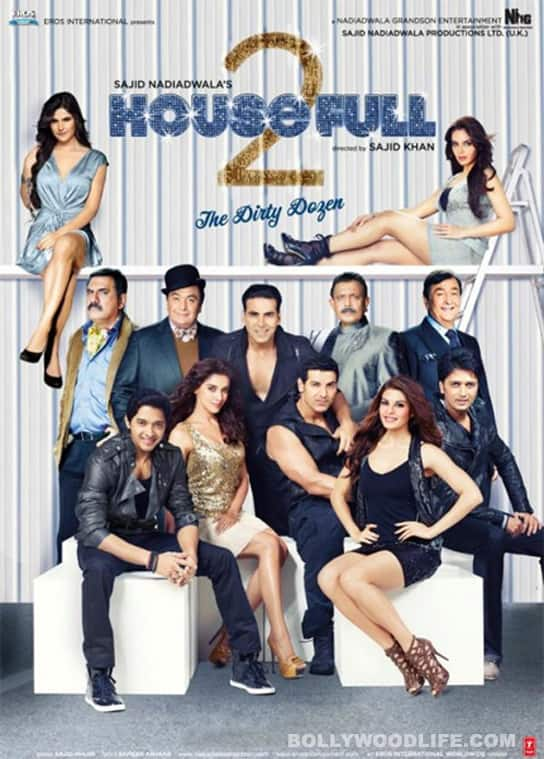 As Sajid Khan starts work on the third edition of his comic caper with Housefull 3, we wonder if the audience won't be exhausted by the time it is released. Just keeping track of who is doing what to whom will be a painful task!
Housefull might had been declared a hit (though we continue to wonder why!), but you have to agree that it wasn't breakthrough humour. In fact, instead of making us laugh, the climax made us cry, and we wanted to be let out of the theatre before the film ended. But the ushers just wouldn't open the doors!
So we don't have too many – or too high – expectations of Housefull 2. There are a couple of good reasons for that. First, people have stopped expecting much of Akshay Kumar's comedies. And second, while the first edition was indeed…err…house full, the sequel looks more than over-full. There's so much clutter and clamour that you feel like walking out midway through the trailer – and we cannot even think how messy the film itself will be. As if Akshay Kumar, Riteish Deshmukh, Boman Irani and Randhir Kapoor were not enough, Sajid added John Abraham, Shreyas Talpade, Mithun Chakravarty and Rishi Kapoor to the cast. Looks like the director couldn't manage to get big heroines like Deepika Padukone and Lara Dutta to play the requisite though miniscule leading lady roles this time around and had to settle for the likes of Jacqueline Fernandez, Asin, Zarine Khan and Shahzahn Padamsee, who are trying really hard to be glam dolls. Phew! Just listing the star cast is exhausting. Add to that the loud dialogue and a cheap replica of Volume kam kar being thrown at us in the promos, and you just want run as far away from this movie as possible.
Considering Sajid's earlier productions Heyy Babyy and Housefull were hits, we wouldn't be surprised if people pay hard earned money to watch Housefull 2, especially since filmgoers have very little choice when it comes to comedy these days. After mind numbing un-fun runs like Rascals and Thank You, Housefull 2 could seem like an Oscar nomination in the making!
Sajid has expressed his keenness to make Housefull into a series and we don't know how many more films he has in mind. And we don't blame him for jumping on to the franchise bandwagon – after all, almost everyone's got one. But if he adds any more characters to his third edition, the actors will start spilling out, off the screen and into our laps! We are definitely not dying for a series of Housefull movies. Are you?
ALSO READ: