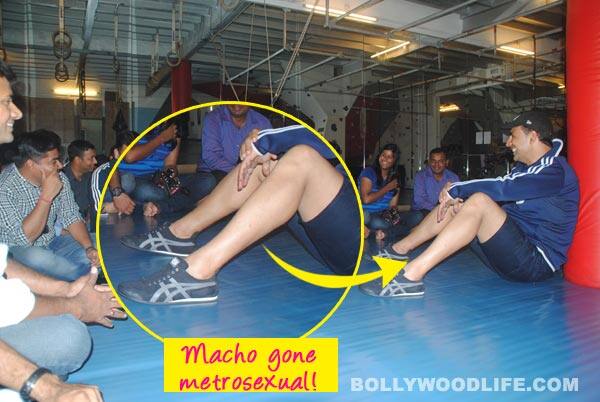 skip advertisement
We were definitely surprised by the daredevil stud's unexpectedly metrosexual side
Recently, when Akshay Kumar was spotted showing off his gym to trainee IPS officers, the Khiladi dude was noticed for more than his fitness levels. We were spellbound by his long legs – they looked recently shaven. The super-fit star met the Quick Response commando team comprising armed soldiers and sub-inspectors, who could not resist taking a long look at Akki's hair-less limbs either.
Everyone was impressed with Akshay's incredible fitness and his impressive flexibility. The onlookers were equally awed by the Boss star's silky smooth and shiny legs when he strutted around like a true metrosexual man.
The real action hero of B-town, we are told, has shown a special interest in training the commandos and he will also sharpen their martial arts techniques. Now these visuals have reminded us of the time when Akki flaunted his rather more hairy avatar in the movies like a true man, but with changing times the 46-year-old star has decided to shave more than just his thick-matted chest, it seems. The proof of Akki's metrosexuality is there for all to see. Wink, wink!