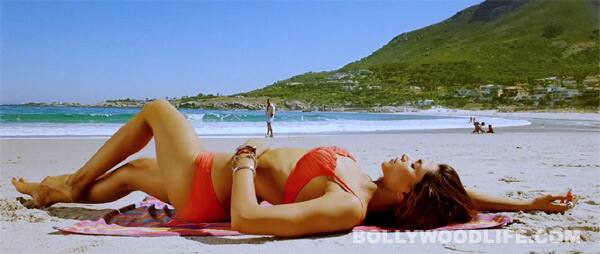 The Cocktail actor, who is known for her washboard abs and endless legs, wasn't very happy with her slim and svelte figure. So here's what she did…
In the figure-obsessed world that is B-town, a female actor is usually expected to follow the size requirements of her character to the T. Be it Kareena Kapoor or Katrina Kaif – actors who slogged and starved to get the coveted size zero – or Vidya Balan – one who was apparently on a diet that mandated butter – actors actually work hard to fit (literally) into their roles.
And this time it was perfectly-abled actor Deepika Padukone's turn. Darling Deeps was expected to tweak her figure for Cocktail, a movie with Saif Ali Khan and Diana Penty. But what, we wondered, was wrong with the lady's washboard tummy? Err… nothing. It was the fact that her curves were not…umm…curvy enough for a bikini that posed the problem.
And so, to make her body look a tad bit more rounded, the actor decided to follow a Pilates regimen. "I've never had to go through drastic weight loss programmes or crazy regimens, but I feel my body has the potential for a lot more tweaking and definition. Pilates helps with that, as it hits the right areas," the actor revealed in an interview. And indeed, the 'right areas' were tweaked to her – and our – satisfaction.
When the trailers of Cocktail were released, we saw Deeps looking delightfully delicious and that too without going under the knife. Now that's some feat, isn't it? Wonder if a certain Kangna Ranaut is listening. Wink, wink.