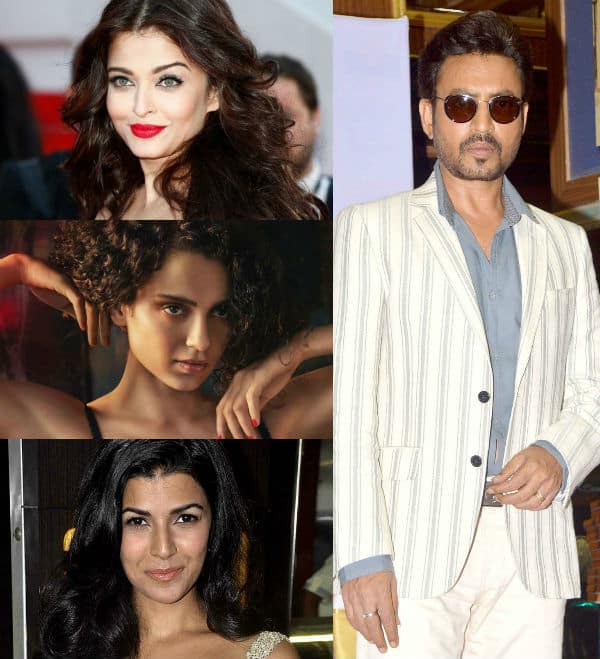 The talented Nation Award Winning actor seems to be leaning more towards doing films with younger and glamourous actors…
Irrfan Khan is one of the most sought after character actors in the country today. Not only does the The Lunchbox actor have splendid international projects like The Amazing Spiderman and The Namesake to his credit, he will soon be seen in some interesting films on the home turf as well. But we have mapped a slight change in his preference of co-actresses in the recent past.
Earlier the actor comfortably signed films like Hiss or Life in a Metro that had him paired opposite relatively de-glam actors like Divya Dutta and Konkana Sen Sharma. He was seen twice alongside Tabu in films that garnered immense praise. But now there is a slight change in the actresses he is picking films with.
Irrfan will be seen opposite the very fashionable and the very gifted Kangana Ranaut in Divine Lovers. He will also be playing Deepika Padukone's love interest in the much-awaited film Piku. As per the latest update, the talented actor will be seen opposite Aishwarya Rai Bachchan in her comeback film titled Jazbaa. Looks like the Maqbool actor is looking for an image makeover.
Perhaps, he is trying to sell himself as a stand-up commercial actor besides stepping effortlessly into the shoes of any role that demands gravitas. It could also be that Irrfan, through is current preference of younger co-stars, is trying to set a new trend in Bollywood; that of the not-conventionally- handsome men romancing demure dames. This almost hints at an undercurrent of change in B-Town's mentality towards the less good looking actors with unbounded talent.
Whatever the case may be, it is working in Khan's favour. We just look forward to seeing these off beat couples onscreen!