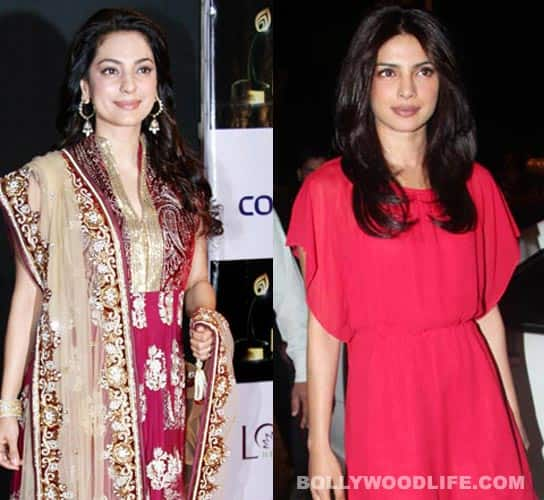 Juhi Chawla must have woken up on the wrong side of the bed recently. At least that's what her recent tweet on Piggy Chops and Screen Awards implies
"On my way is a huge Screen awards hoarding with a pouting Priyanka in the tiniest of blouses. Someone please tell me why does a respected Screen award for excellence in cinema need such a marketing gimmick," she wrote on micro blogging site Twitter. Now Ms Chawla should be well aware of the ways of the industry considering she's has been here long enough.
Piggy Chops posing seductively in skimpy clothes to promote an award function definitely isn't the worst example of a poorly devised marketing gimmick, is it? There definitely have been many more that have managed to raise our hackles. Now we don't know what's riling Ms Chawla up, but one of the reasons could be the extreme closeness between PC and King Khan. The two have been bonding so much lately that after wife Gauri Khan, its SRK's best buddies who have been getting affected and irritated by the intimacy. Chawla is one of the most effervescent people in B-town and very rarely does she express her views so vehemently. But we guess gone are the days when the actor used to take a chill pill and mind her own business. We don't know the real reason behind the bubbly babe's annoyance though.It could be PC's pout or her being over-friendly with Shahrukh or it could be that Juhi misses the good old days of genuine and respectable award shows. Whatever it is, we are just glad that at least we heard from you, Juhi!