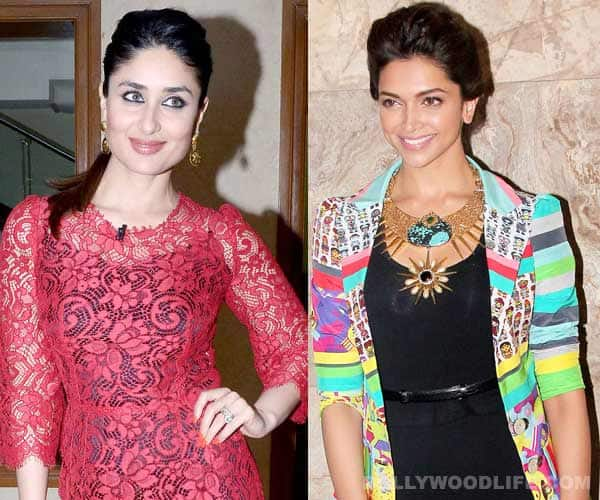 Dippy's latest release Ram-Leela has become the talk of the town. In fact, Big B himself can't stop gushing about the film and has already watched it three times, he says. But should Bebo be credited for DP's success? Saif Ali Khan's Begum does…
With Goliyon Ki Rasleela Ram-Leela, Deepika Padukone has one more blockbuster in her kitty. The desi version of Romeo and Juliet has impressed audiences and critics alike. Even industrywallahs are maha impressed with the dusky beauty and her act in SLB's love story. And while wethinks Deepika's hard work and talent is the reason for her success, Kareena Kapoor Khan believes that it's all because of her. How, you wonder? Well, Bebo was approached by Bhansali for Ram-Leela, but turned down the offer and decided to do Gori Tere Pyaar Mein instead. That's how DP landed the film. That Priyanka Chopra's name was also mentioned as a possible is not relevant, we assume. But Saif Ali Khan's wifey now thinks she should take credit for Dippy's success.
In a recent interview, she said, "I confess that I'm mad. There have been times when I've signed a film and then felt it was wrong. Yes, I was supposed to do Ram-Leela, but I changed my mind. I decided to do Gori… instead. With me, it's all about the mood. I've missed the chance to work with Sanjay Leela Bhansali. But there's always a next time. I'm the only actress who can boast of giving films to other actresses!" It may have been a joke, but it sure looks as if someone's got a little green-eyed monster poking her in the side, hai na?
Since there is nothing that Kareena can do about it now, maybe she is trying to cash in on Deepika's success by making such silly statements, however funny she aims them to be. Just a few days ago Saif's wifey even said that she would want to romance an actor at the age of 60 and that she waits for Aamir Khan and Kiran Rao's son Azad Rao Khan to be her co-star, all of which got our eyebrows wiggling madly. We know that Gori Tere Pyaar Mein is just around the corner and if she is making bizarre statements to hog the limelight, it's so not cool! But it's sadder still if KKK actually does think that Deepika should be thankful to her for the success of Ram-Leela. Bebo, if you have nothing intelligent to say, than perhaps it's better you don't say it!
PS: We won't be surprised if tomorrow Bebo blames Aishwarya Rai Bachchan for the failure of Heroine. Giggle….